A History of Brilliance
Title:
Since 1895, our savoir-faire in crafting precision-cut crystals has delighted designers the world over. Inspiring and influencing with high-quality products that elevate any design, it's time to discover our world.
Innovation Excellence
Title:
Swarovski offers new cuts, colors and shapes twice yearly. Our seasonal launches deliver an amazing assortment of original and cutting-edge crystals, ensuring illuminating designs come to life all year round.
A world of wonder awaits in our wide assortment of shapes, sizes, and colors.
If you don't have an existing B2B account, kindly use the Contact us form
Discover the world of Swarovski for Professionals
Insights
Our crystals are an ongoing testament to the legacy of Daniel Swarovski, and his commitment to innovation. It is this pioneering spirit, and dedication to perfection that continues to make us the designer's choice.
In this section you will find information about the Ingredient Branding, that enables designers to embrace the captivating world of crystals, Application details, and a list of our partners.
Inspirations FW 24/25
Title:
It is time to return to the innocence, beauty, and kindness of bygone years. Our four inspirational themes invite us to reflect on the past, understand the present, and embrace a more hopeful future.
Innovations FW 23/24
Title:
This FW season's brilliant innovations call to mind memories made manifest in cuts, shapes and colors that remind us of the innocence, and sophistication of bygone times.
Boasting up to 18,000 stock-keeping units of loose crystals, supplying more than 70 colors, over 30 Effects, and 50 Lacquers, our assortment is truly outstanding. Our made-to-order Forward Integrated Elements offer fabulous flexibility with unlimited combination possibilities to ensure endless inspiration.
Download our Components Catalogues
Title:
Swarovski Components Collection
Looking for that extra spark of creativity? 
Explore our complete collection of precision-cut components to find your perfect match.
Product Highlights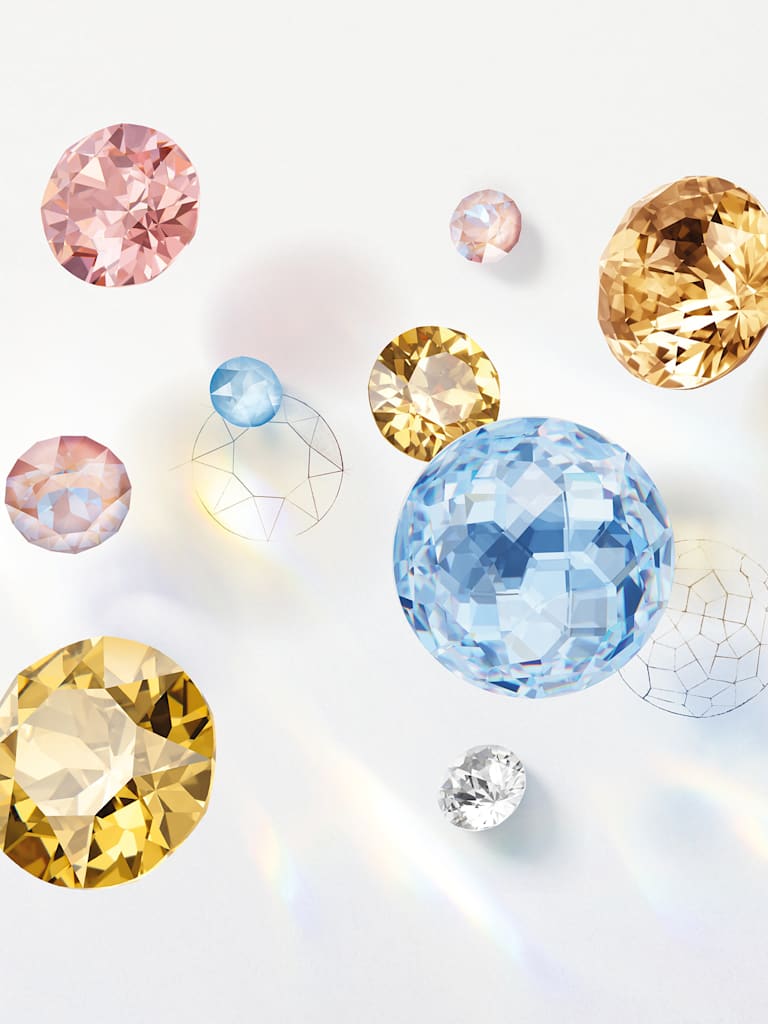 Round Stones are incredibly versatile, loose elements, with many possessing a pointed reverse side allowing for effortless application in pre-set cavities or metal claws. Featuring various cuts, and an extensive range of sizes, the assortment encompasses the XERO Chaton, the smallest existing size, and the innovative XIRIUS Chaton, renowned for its unparalleled brilliance in a celebration of high art and technical expertise.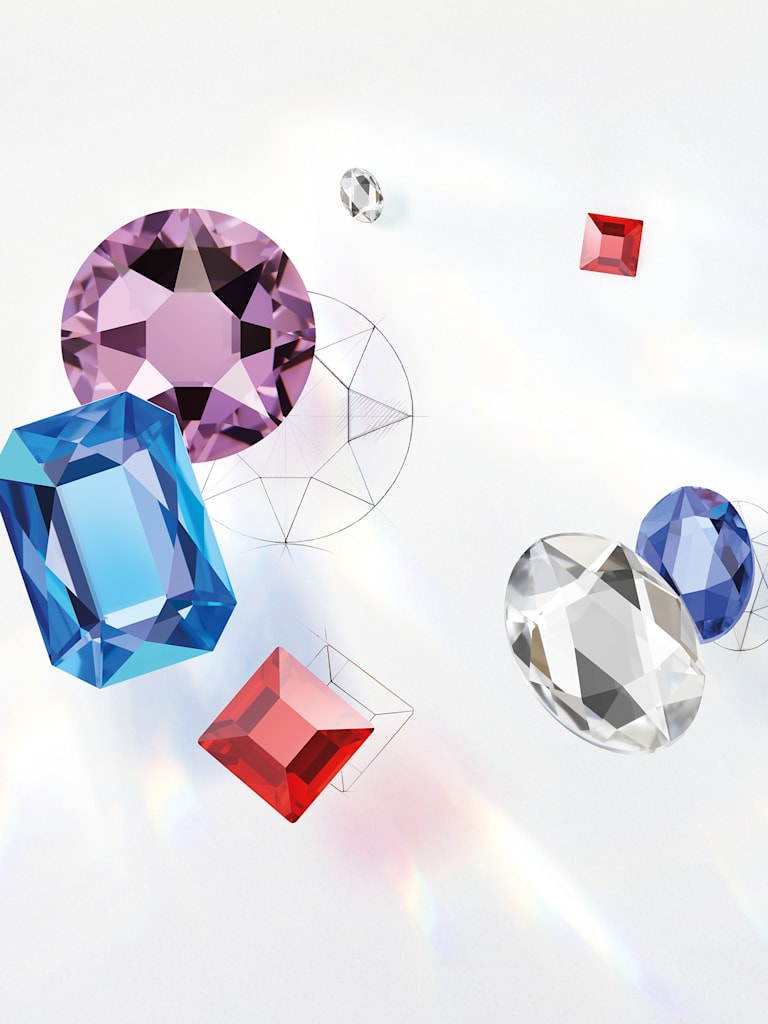 Flat Backs Hotfix possess a flat reverse side and are pre-coated with a heat sensitive glue. They are easily applied to a large range of textiles producing a shimmering, and long-lasting design.
The captivating beauty of the Flat Back Rose is crafted by a unique silver mirror coating on its reverse side, resulting in amplified light reflection. Swarovski's outstanding quality is underlined by the highest precision in table size and diameter.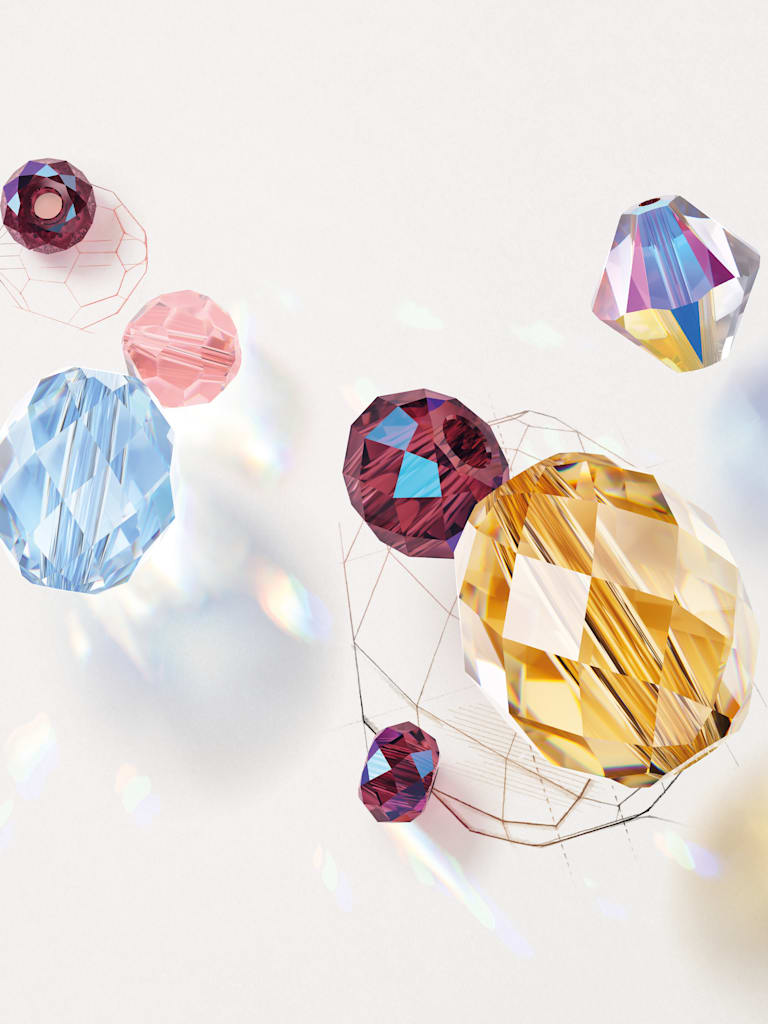 Swarovski Beads set the benchmark for excellence in the market. Meticulously crafted, precision-cut with a clear hole, and extraordinary brilliance, the rounded edge of the hole reduces the wear on threads to increase design durability. Available in a wide range of shapes and cuts, from classically elegant through to playful and modern, they offer myriad creative possibilities.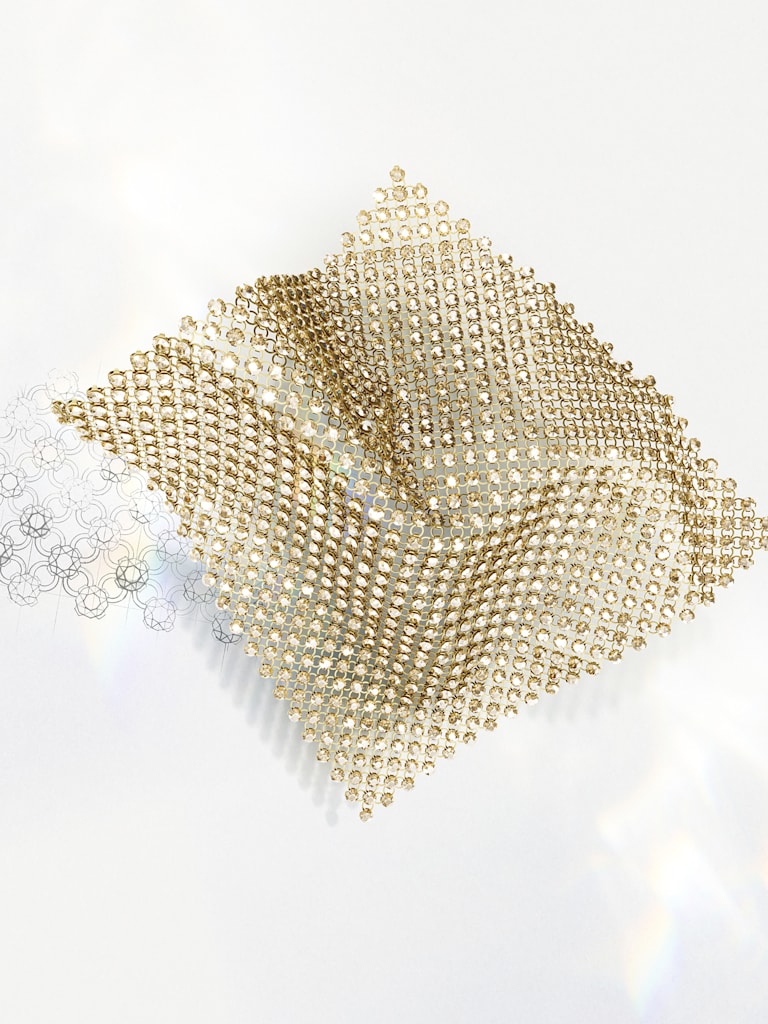 A flexible metal mesh carrier with integrated loose crystals, Crystal Mesh is available in a wide range of colors and casings. It comes as a Hotfix version, which is applied using heat, or as a No Hotfix version, which is hand or machine sewn. Customized solutions are possible, and customers are able to choose special motifs incorporating up to nine colors.
World of Swarovski
Spotlight
Illuminating the many facets of Swarovski from heritage to lifestyle and beyond. Discover the latest news, events, and highlights in the world of crystal.
Our Swarovski Experts are here to answer your questions
If you don't have an existing B2B account, kindly use the Contact us form