Luxury Ornaments & Fun Festive Baubles Everyone Will Love
Title:
Whether you're drawn to sweet and chic ornaments or luxury decorations instilled with iridescent radiance, there's a style of holiday ornament for every seasonal theme. Reawaken childhood memories with our selection of festive motifs and enchanting characters including Santa and his festive friends, traditional toys, gingerbread and candy canes, or look to the stars to find luxurious styles shimmering with holiday magic.
However you like to style the holidays, our spectacular crystallized pieces will spark your imagination and fill your home with a seasonal atmosphere. Take a trip through the cosmos for out of this world inspiration, choose luxury baubles that reflect our jewelry families, or choose playful pieces shining with festive cheer.
Gingerbread Ornaments & Sweet Styles
Title:
Bring personality to your tree styling with an intriguing cast of characters that take inspiration from enduring holiday traditions and moreish sweet treats. Create a compelling festive scene by adorning each branch with North Pole favorites, find an elf set within a clear crystallized bauble, offered alongside Santa Claus and his reindeers transformed into hanging ornaments. 
A touch of sweetness comes from fun ornaments crafted to resemble seasonal delights. Satisfy your cravings with a red and white striped candy cane, a pavé wrapped candy figurine, or a set of gold-toned gingerbread ornaments shaped into cookie versions of holiday gifts, woollen mittens, and boughs of holly.
Designer Bauble Collection
Title:
Create an extraordinary festive tree with the addition of crystallized designer baubles. Designed by Michele Blasilli, our exquisitely-crafted angel is a symbol of peace and harmony realized in white and gold-toned crystals, while our selection of hanging ornaments includes rotating pavé stars that take inspiration from Swarovski Global Creative Director, Giovanna Engelbert's Stella jewelry family. 
Add a striking geometric aesthetic to your tree with our delicate ball ornaments, crafted to reflect the cosmic Constella family, or choose an iridescent ornament, such as a shimmering multidimensional star featuring 307 sparkling crystal facets to refract the light in scintillating hues. Reflect your personal home décor preferences and embrace a distinctive tree style that captures the spirit of the season.
Holiday Home Décor Bundles
The festive season is the perfect time to come together.
Purchase a holiday duo and receive 5% off.
Celebrate the holiday season by embracing galactic glamour and cosmic radiance.
Subtitle: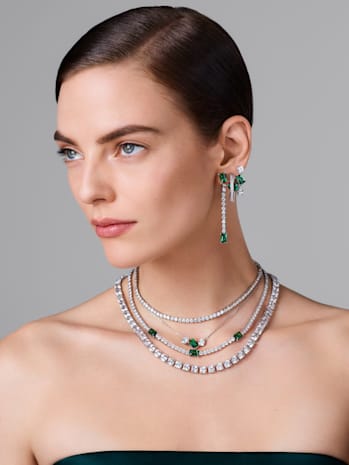 Festive Jewelry Styling
Title:
Look to the stars this holiday season and enter a new dimension of glamour. Unlock your inner radiance with layered rows of ice white crystals, mixing myriad cuts and cosmic-inspired motifs to create looks that are truly out of this world. Mesmerize with light-filled wonder.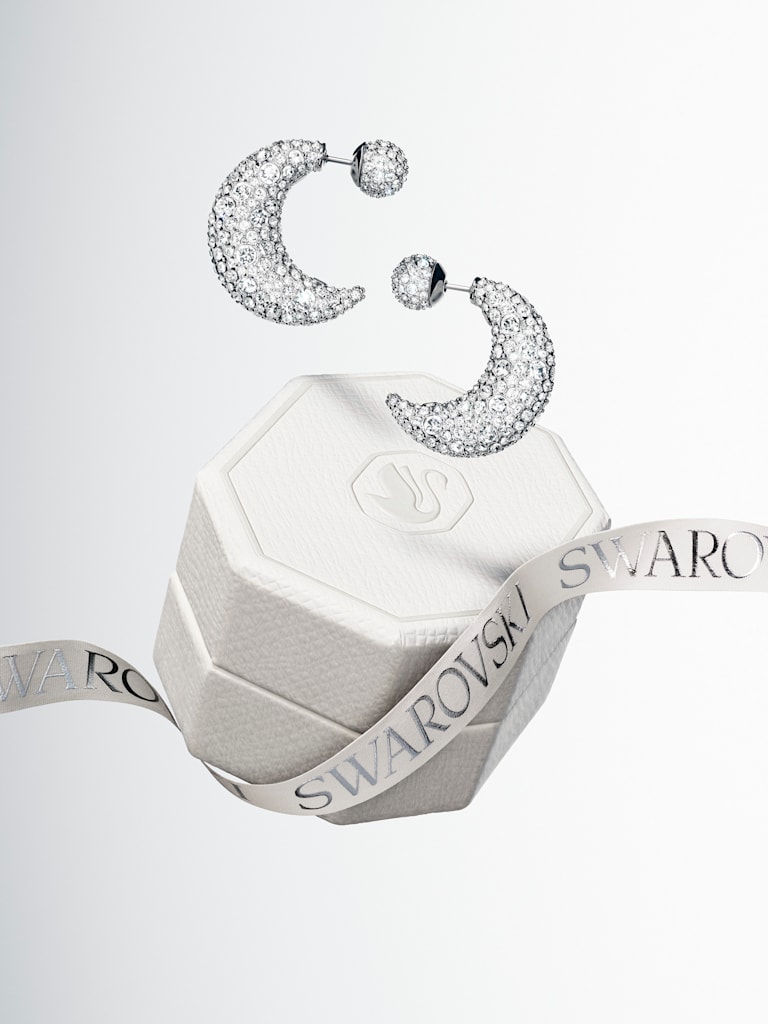 From timeless jewelry sets to figurines that showcase Swarovski's signature savoir-faire, discover holiday gifts designed to surprise and delight this holiday season. Light up their life by treating someone special to precision cut crystals in brilliant ice white shades that will never go out of style.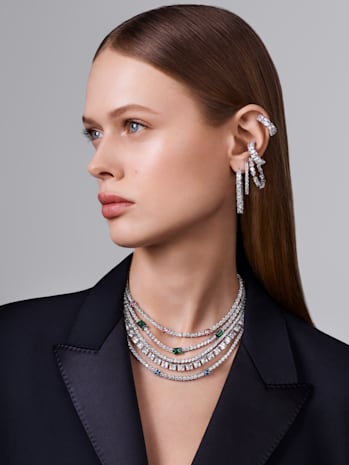 Whether you're searching for the perfect surprise or a gift for the person who means the most, our interactive gift finder will help you find a piece they'll love. Take a journey through our jewelry, accessory, and homeware collections and prepare to surround yourself with shimmer.