Setting The Scene: Holiday Table Centerpieces
Title:
Put a rainbow of colors and crystals at the heart of your festive home décor and create a beautifully immersive winter wonderland. Feel the magic of the holidays by transforming every room with an array of hanging ornaments, figurines, and centerpieces crafted from iridescent crystals. 
Whether suspending elegant gold baubles from your tree or displaying charming reindeer and snowman characters atop fireplace mantles, fill your home with an enchanting glow. Gather friends and family around a festive dining table, set with your most precious tableware. Go for glamour or celebrate the season with red and green tones – small details make all the difference. 
Come together, exchange gifts, and revel in the joyful extravagance of it all. 
It's not the holidays without Swarovski.
Enhance the Joy with Small Details
Title:
Make this a holiday to remember with Swarovski's charming characters. From Santa to our dapper nutcracker and delightful deer, these festive figurines are perfect for creating spectacular tabletop arrangements. Nestle them between natural foliage and glowing candles for a dazzling centerpiece display. For holiday décor ideas with a more personalized touch, try positioning characters alongside individual place settings and spread the cheer by gifting to friends and family as mini favors. Brought to life with impeccable attention to detail, each exquisite piece will ignite imaginations and imbue homes with warmth and light.
Elegant Holiday Table Arrangements
Title:
The festive season calls for glamorous dining table arrangements and eye-catching tablescapes. Swarovski's sophisticated tableware and glittering décor deliver plenty of inspiration, helping you bring your holiday styling ideas to life. Lead with elegance this season with gorgeous glass candleholders and wintry bell jars, and enhance the shine with crystal tabletop trees, embellished with brushed gold-tone detailing. For a merry flourish, reach for stag figurines and twinkling carousels – and let the celebrations commence.
Holiday Home Décor Bundles
The festive season is the perfect time to come together.
Purchase a holiday duo and receive 5% off.
Celebrate the holiday season by embracing galactic glamour and cosmic radiance.
Subtitle: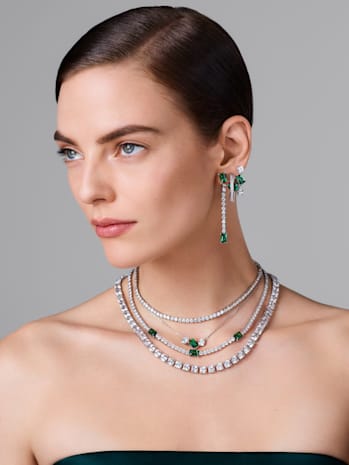 Festive Jewelry Styling
Title:
Look to the stars this holiday season and enter a new dimension of glamour. Unlock your inner radiance with layered rows of ice white crystals, mixing myriad cuts and cosmic-inspired motifs to create looks that are truly out of this world. Mesmerize with light-filled wonder.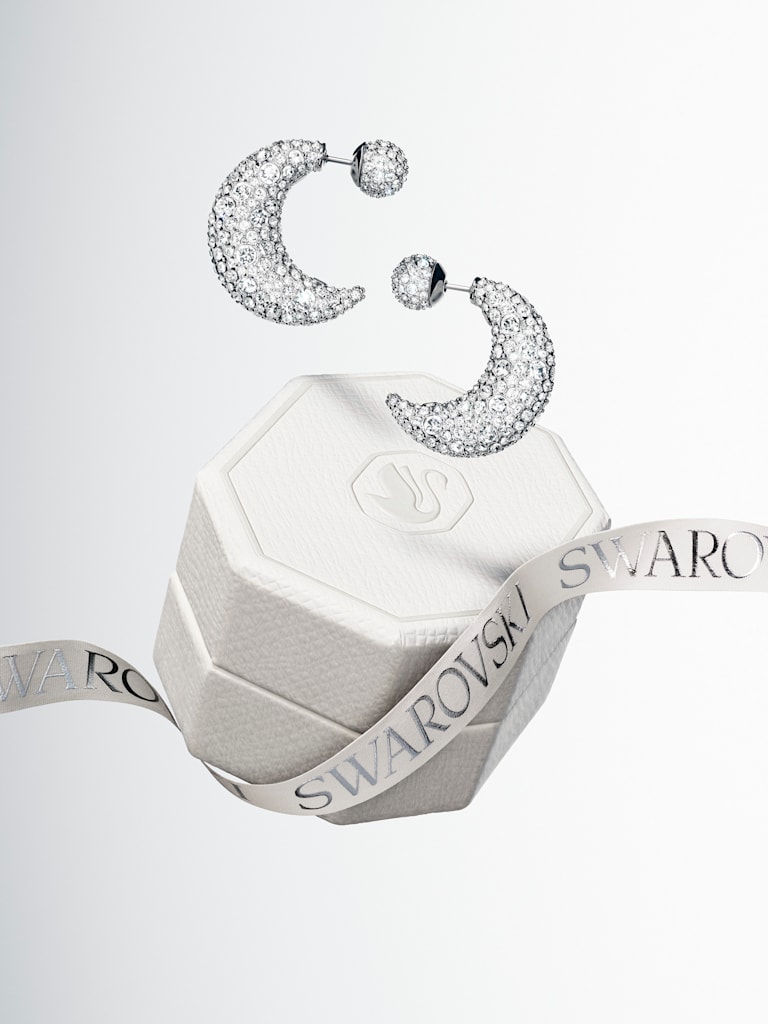 From timeless jewelry sets to figurines that showcase Swarovski's signature savoir-faire, discover holiday gifts designed to surprise and delight this holiday season. Light up their life by treating someone special to precision cut crystals in brilliant ice white shades that will never go out of style.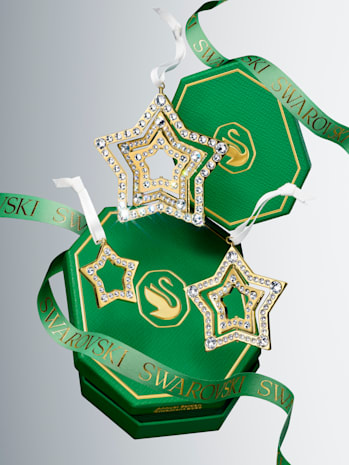 The focal point of your festive décor, the tree is the perfect place to let your creativity flourish. Embrace the season and honor tradition by interspersing shimmering baubles with suspended snowflakes; or go for monochromatic chic with constellations of lustrous crystals.