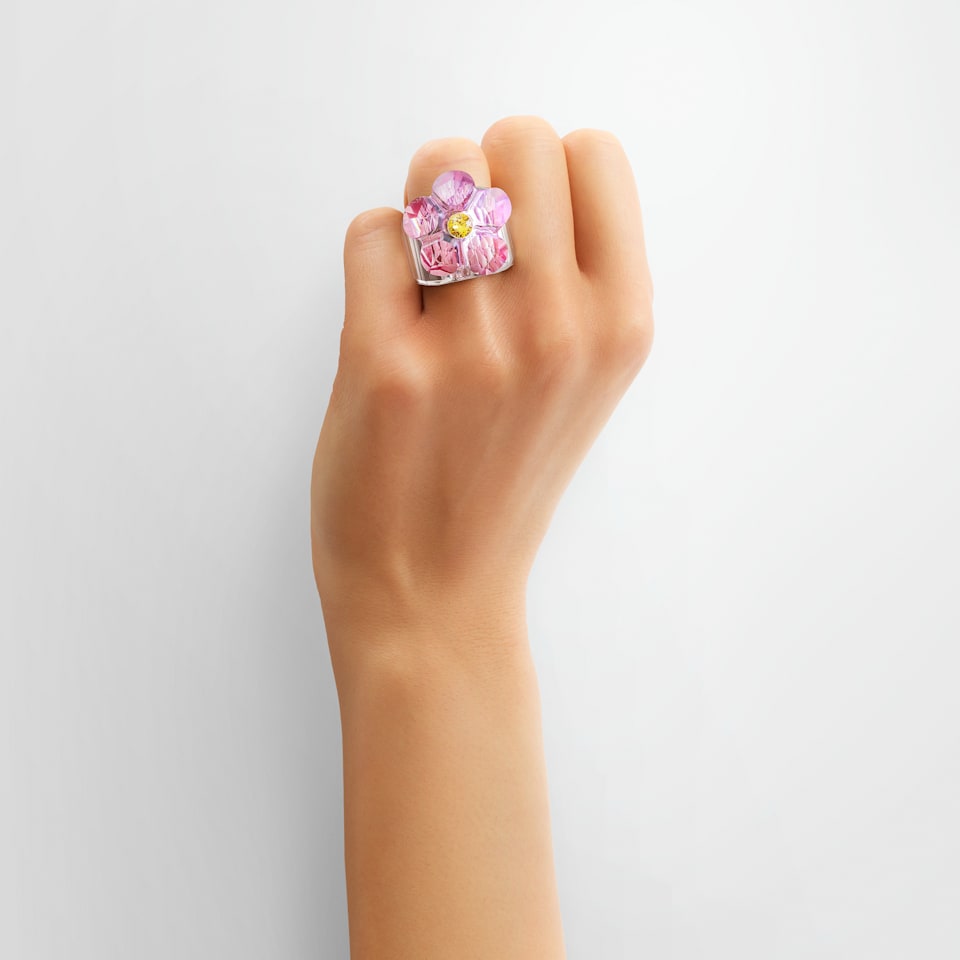 WHEN WORLDS COLLIDE
Perfect Symbiosis
Bold, stylish, elegant, and surprisingly playful, the limited-edition Florere cocktail ring is a must-have piece for any occasion. A standout piece, the ring was inspired by a trip taken by our Creative Director, Giovanna Engelbert, to the Swarovski archives in Wattens, Austria. While exploring our rich heritage in both home décor and jewelry, she saw a unique opportunity to unite the two worlds in one design.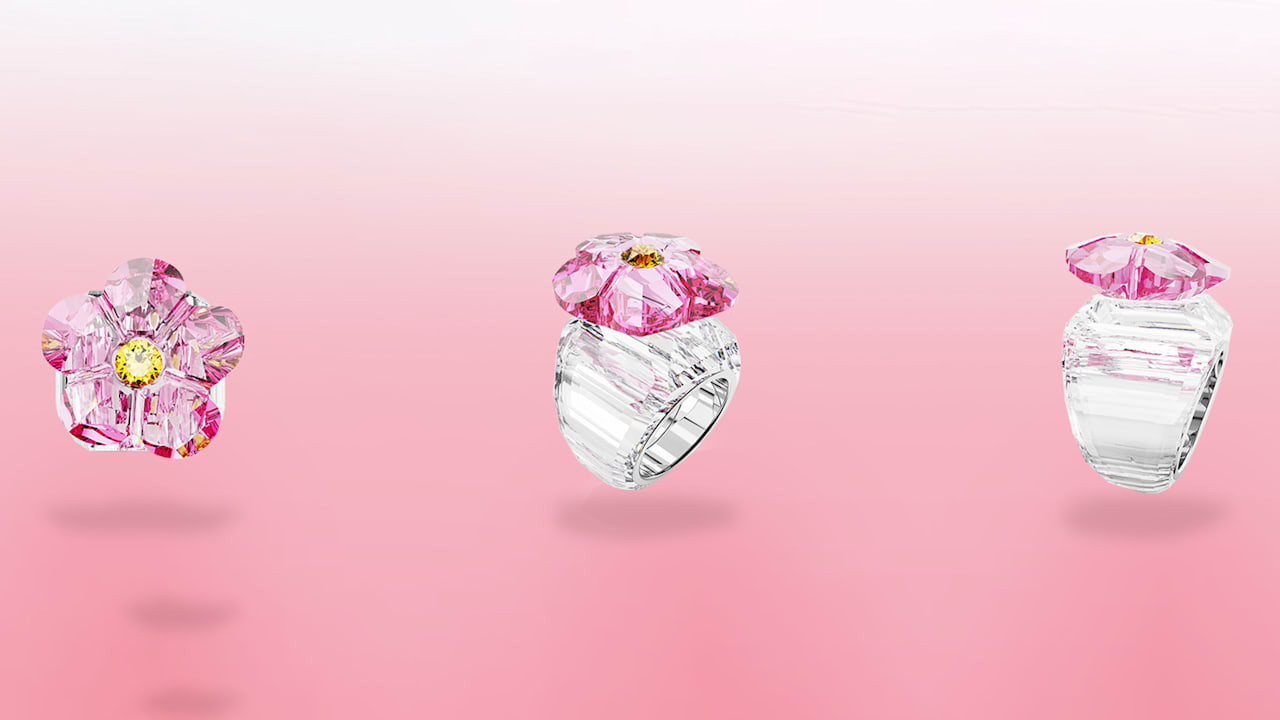 Inspired by the Lucent jewelry family
Title:
This SCS exclusive ring achieves symbiosis by combining classic motifs from our home collection with the vibrant colors of our joyfully extravagant jewelry creations.
Infused with a playful spirit, the Florere cocktail ring features a full-crystal band with an oversized pink and yellow-toned crystal flower that pays homage to our signature home décor. The ring features 126 facets - 44 in the flower and 82 in the band - and the metal inlay of each band is engraved with the words 'limited-edition' to remind wearers of its exclusive nature.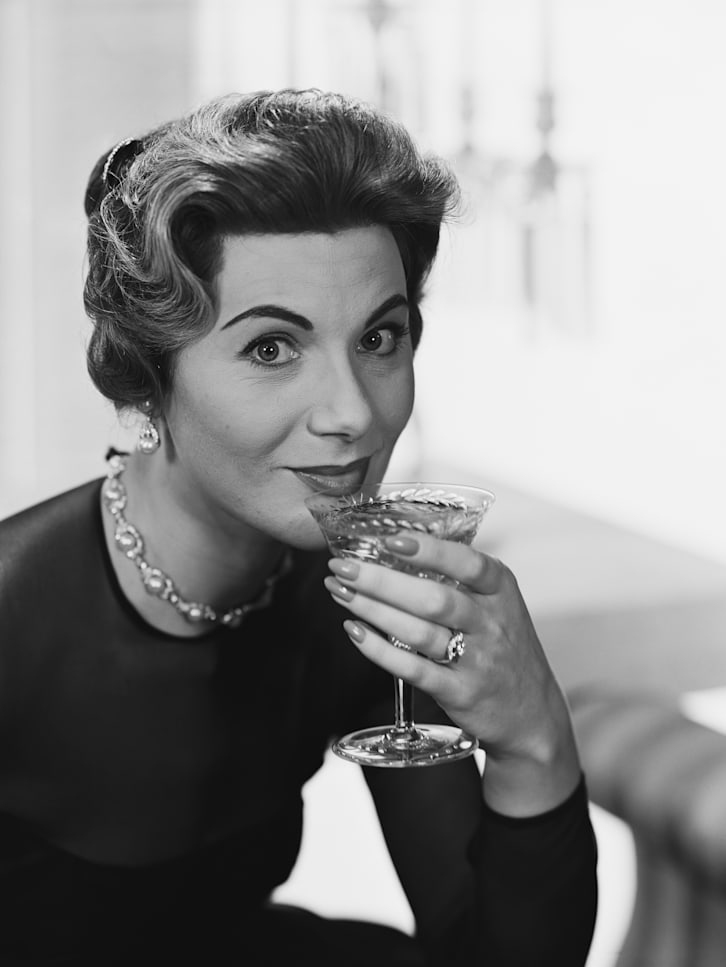 The Cocktail Ring
THE POWER OF SELF-EXPRESSION
Cocktail rings are far more than just dazzling pieces of jewelry; they were originally a symbol of resilience, independence, and rebellion. The cocktail ring first emerged in the US during the Prohibition Era of the 1920s. The sale of intoxicating liquors was banned at this time, giving rise to the growth of speakeasies and underground clubs where revelers could let loose and lower their inhibitions, revealing their true selves. 
The restrictions of the era inspired women to loudly and boldly celebrate their individuality through jewelry. Cocktail rings were large, colorful, and stately, and soon came to be seen as a way to display power – sending a strong message that nobody can prevent you from being you. The larger and more colorful the ring, the more confident its wearer.
Express your own individuality with this captivating ring on your finger. Only available online, the Florere cocktail ring is limited to just 500 pieces. Order yours today.
Don't miss the benefits
Title:
Immerse yourself in a universe of crystals
Subtitle:
Become an SCS member today and enjoy exclusive access to unique products and gifts, behind-the-scenes insights, and priceless experiences.