Ignite Your Dreams
Since 1895, founder Daniel Swarovski's passion for innovation and design, and mastery of crystal cutting has defined Swarovski as the leading jewellery and accessories brand.
A New Swan Takes Flight
Iconic Swan earrings bring an effortless elegance to any earring stack. The Swarovski swan represents the beauty of nature and the essence of perpetual motion. Crafted from dazzling pavé crystals that will cast a soft glow across your skin, wear our swan daily to remind you to spread your wings and let your imagination soar.
Why wear one swan motif when you can wear two? Play with scale contrasting the dramatic with the delicate for double the glimmer and grace. These beautiful pieces shimmer with all-over crystals, wear them with multiple necklace styles to add a sense of theatre to any look.
Raise your wrist-stacking game with the sublime addition of a contemporary crystal Iconic Swan bracelet or bangle. Gliding effortlessly among any configuration of clashing or coordinating wristwear, the swan motif is a strong symbol of self-expression and is guaranteed to capture attention.
SWAROVSKI Swan
Kaleidoscopic Hues
Our iconic swan is an emblem of love, joy, and eternal beauty, re-imagined and re-energized this season in our feel-good brand colours. Step inside a vibrant wonderland, where confidence is colourful and coordinating crystals make every look pop. Push the boundaries in party pink, shine bright in bold metallics, bring positive vibes in sunshine yellow, deep dive into a spectrum of blues, or channel your inner goddess in emerald green.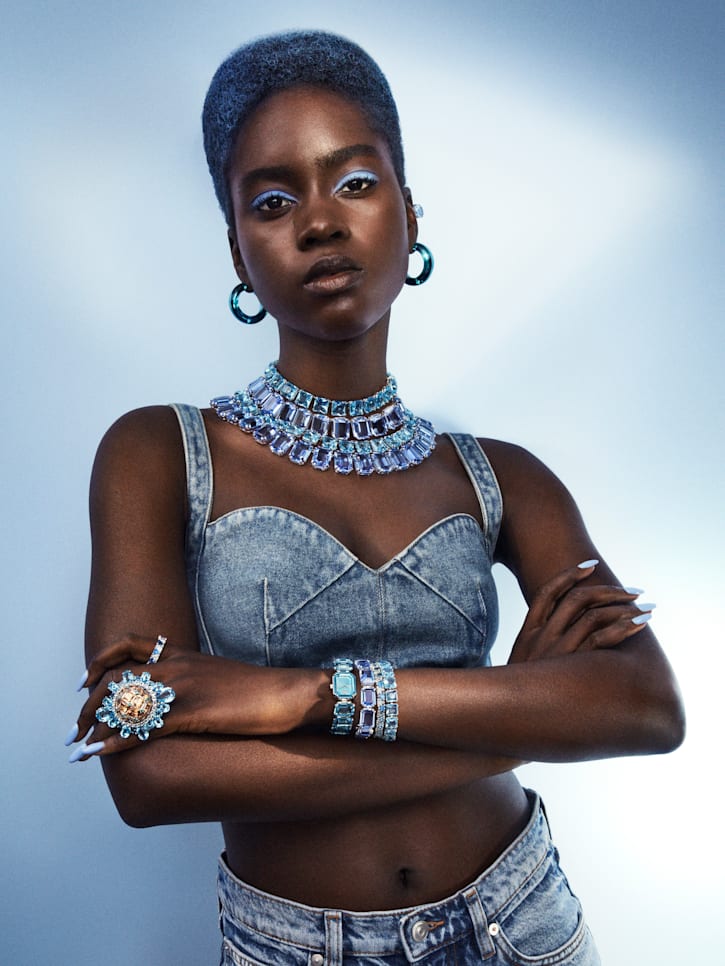 crystal clear
Pieces of Pure Wonder
Our Millenia family is a contemporary interpretation of our heritage and expertise. The science of crystal cutting meets the magic of light refraction in bold designs that go right to the heart of who we are.
SCS Fascinating Africa Livestream Event
Join us for the SCS Fascinating Africa Livestream 2023 to hear from designer Martin Zendron talking about this year's SCS collection. As a special highlight stay tuned for a beautiful Kris Bear Anniversary Gallery.
Not yet a member? Join now for instant benefits!
We can't wait to meet you.
Illuminating the many facets of Swarovski from heritage to lifestyle and beyond.