The winners take all
Title:
Swarovski has created a crystallized trophy for the winning team of the Fortnite Champion Series (FNCS) Invitational 2022. The video game tournament attracts players from around the world, each competing in pairs to win a share of the $1m prize pool and the right to lift the glorious winners' trophy.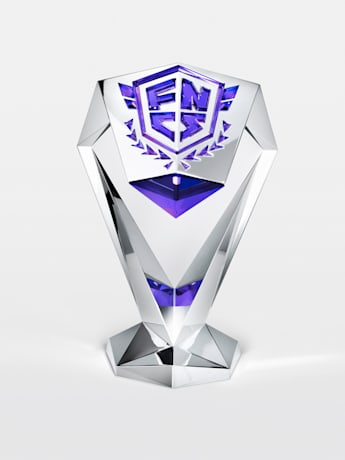 Eyes on the Prize
Swarovki's first esports trophy takes creativity and innovation into a bold new arena. The finished piece was designed using Unreal Engine - the real-time 3D creation tool used to develop Fortnite - and crafted using multiple innovations, including laser plotting, fine grinding, and polishing, to ensure a flawless result.
Inspired by the distinctive FNCS logo, the trophy's shield-shaped base is set with bespoke crystals featuring an iridescent color-changing effect that transitions from purple to blue. A dazzling reward for the tournament's victors.
Illuminating the many facets of Swarovski from heritage to lifestyle and beyond.