Birthstones by Month & Color Chart
Title:
Find your shade with our complete birthstones chart, a playground of possibilities that inspires self-expression. Each inspiring birthstone color offers strength and clarity while radiating light. Discover our evolution of birthstones by month, complete with their traditional colors and meanings. Realized in a curated range of pendants and stud earrings, each month's birthstone encourages its wearer to harness the power within.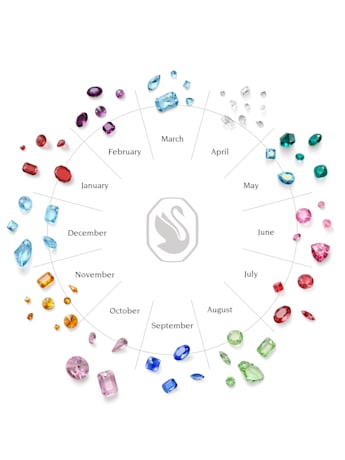 Birthstones Chart Colors
Known for celebrating and enhancing the wearer's inherent qualities, birthstone colors have been studied and sought after since 1400BC. Evolving over subsequent generations, the colors associated with each birth month today were defined by the National Association of Jewelers in 1952.

Inspired by natural gemstones, our interpretation of monthly birthstones draws on colored crystals to breathe new life into this traditional talisman. Showcasing a different birthstone each month, every piece in the collection is infused with emotion. Explore our full chart of birthstones to discover the true brilliance of this expressive range.
With its deep violet hue, February's birthstone instills courage while protecting its wearer from negative energy. By creating a calm state of mind gifted by its captivating shades of purple, the possibilities are endless.
Reminiscent of fresh dewdrops on a verdant forest floor, the glorious green of May's birthstone takes notes from the natural world, inspiring faithfulness, wisdom, passion, and patience, helping the wearer to see the beauty in the world.
August's birthstone brings the wearer closer to nature with a shimmering lime green shade that glistens with vitality. This luminescent stone has the power to minimize stress and temper anger.
November's birthstone is a bright golden yellow that cannot help but focus the mind. A flash of brilliance cutting through the noise, this stone inspires a sharp mind, inner strength, and self-confidence.
FIND OUT MORE
Top Birthstone Questions Answered
Can you wear a different birthstone?
Birthstones are known to reflect and enhance the traits inherent in those born in the associated month. But there are no fixed rules. If you are attracted by the qualities or color of a different birthstone to your own, then feel free to add it to your jewelry collection. However, it is believed that the stone's power may be greatest when it correlates with the wearer's birth month.
Who came up with birthstones?
Birthstones have a rich heritage, having been worn to symbolize and enhance certain traits since the 5th century. This practice continued for centuries, but it was not until 1912 that the American National Association of Jewelers officially standardized the list of birthstones that we use today, combining ancient traditions with contemporary stones.
Is birthstone by month or zodiac?
While birthstones by month and zodiac share several similarities, there are differences in the way that they are connected to the wearer. Each calendar month has its own birthstone, as does each zodiac sign. You may wish to incorporate both birthstone shades into your jewelry collection or choose the stone that resonates most strongly with you.
Birthstones are, traditionally, gemstones infused with meaning that are associated with a birth month. Empowering, expressive, and personal, each stone is said to enhance the wearer's inherent qualities, while inspiring strength, energy, and good fortune.
Shop Swarovski's Birthstone Collection
Illuminating the many facets of Swarovski from heritage to lifestyle and beyond.