Emerging Brilliance
Title:
Founded in 1989, the ANDAM Fashion Awards honour young fashion designers who are challenging the status quo in France and beyond. Each year, the National Association for the Development of the Fashion Arts oversees an in-depth selection process to determine five winners, rewarding each finalist with transformative financial and logistical support.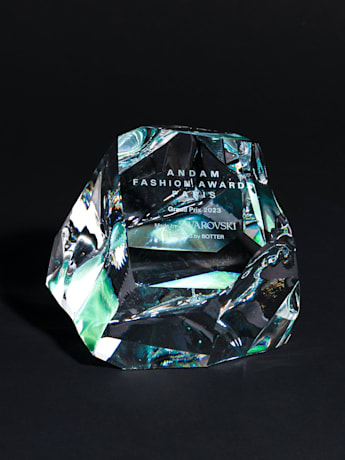 ANDAM x Swarovski
With our inherent creativity and commitment to innovation, Swarovski has been supporting ANDAM since 2013. As a permanent jury member and creator of the award's annual trophy, our involvement ensures we can continue to ignite dreams, nurture entrepreneurship, and shape the future of fashion. Each finalist is granted exclusive access to our showroom, enabling these exciting new talents to discover the endless possibilities of Swarovski crystals.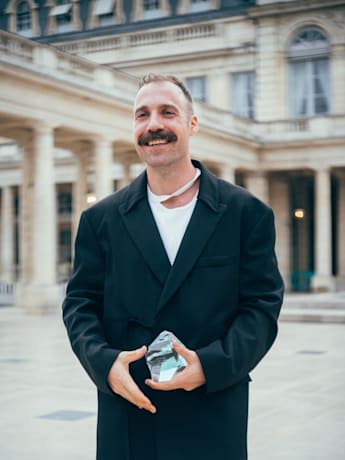 Grand Prize Winner
Known for his gender fluid designs, LGN Louis Gabriel Nouchi beat 12 finalists to take home the Grand Prize of €300,000 and a year-long mentorship with Chloé CEO, Riccardo Bellini.

Nouchi's designs reference literature, while also incorporating natural dyes, recycled plastics, and fabrics with a low environmental impact. His winning collection offered a new take on male sensuality, inspired by Christopher Isherwood's novel, A Single Man.
Winners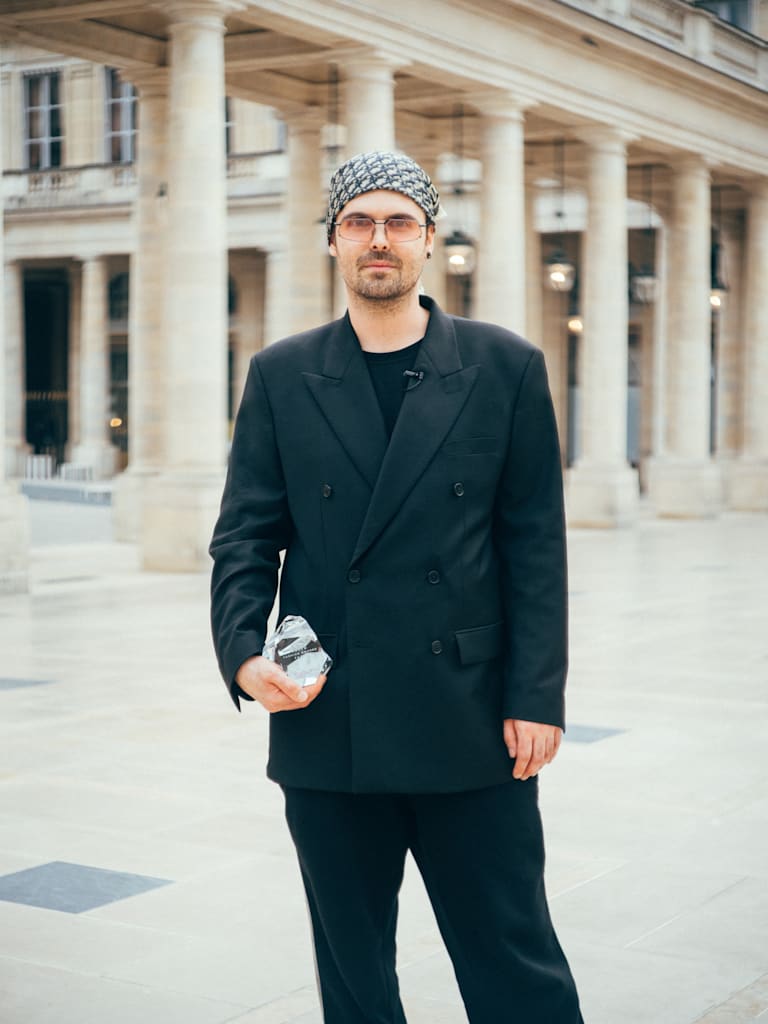 French luxury brand Avellano received the Pierre Bergé Prize in recognition of his extraordinary work in latex. The talented young designer has made the material his signature, despite the challenges it offers, and has pioneered new technologies to create made-to-order pieces for his prestigious clientèle.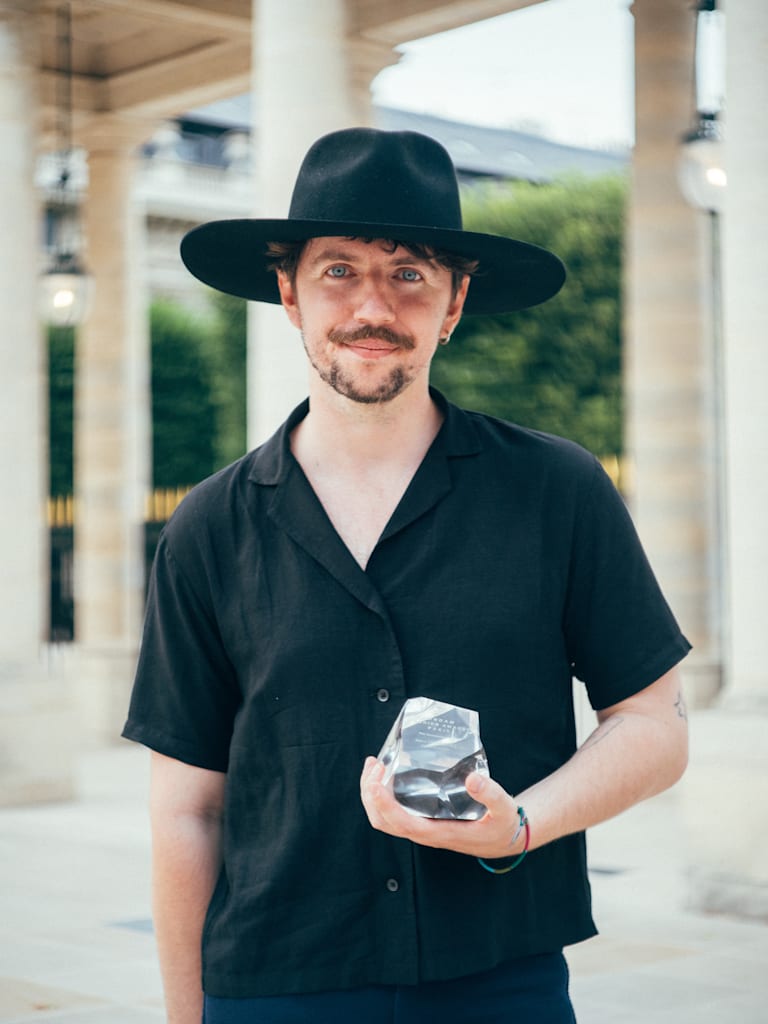 Accessories Prize winner, Ruslan Baginskiy, has been creating contemporary headwear since 2015. Worn by Beyoncé on her Renaissance tour, the designer's hats meld artisanal craftsmanship with multidisciplinary design flourishes influenced by the art, folklore, nature, and cultural heritage of his native Ukraine.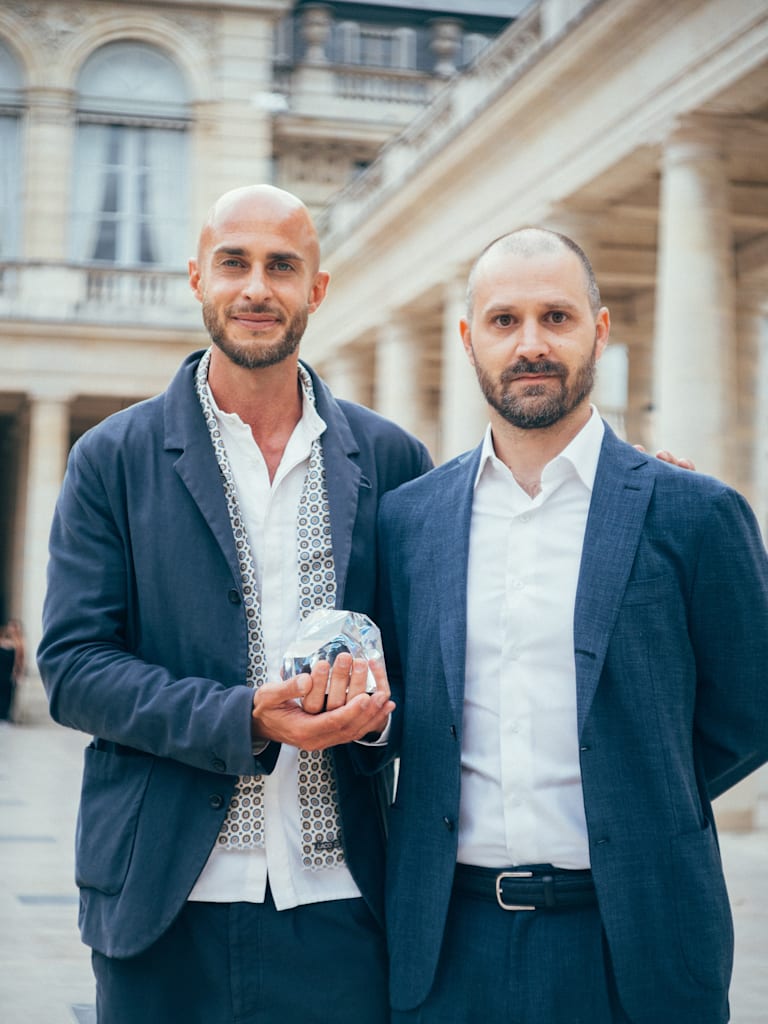 Italian start-up SQIM received the Innovation Prize for its remarkable new material, ephea. A unique bio fabricated material, made from fungi roots, ephea harnesses the power of mycelium to create a responsible and highly functional product without using any contaminating chemicals in the growth process.
Special Prize Winners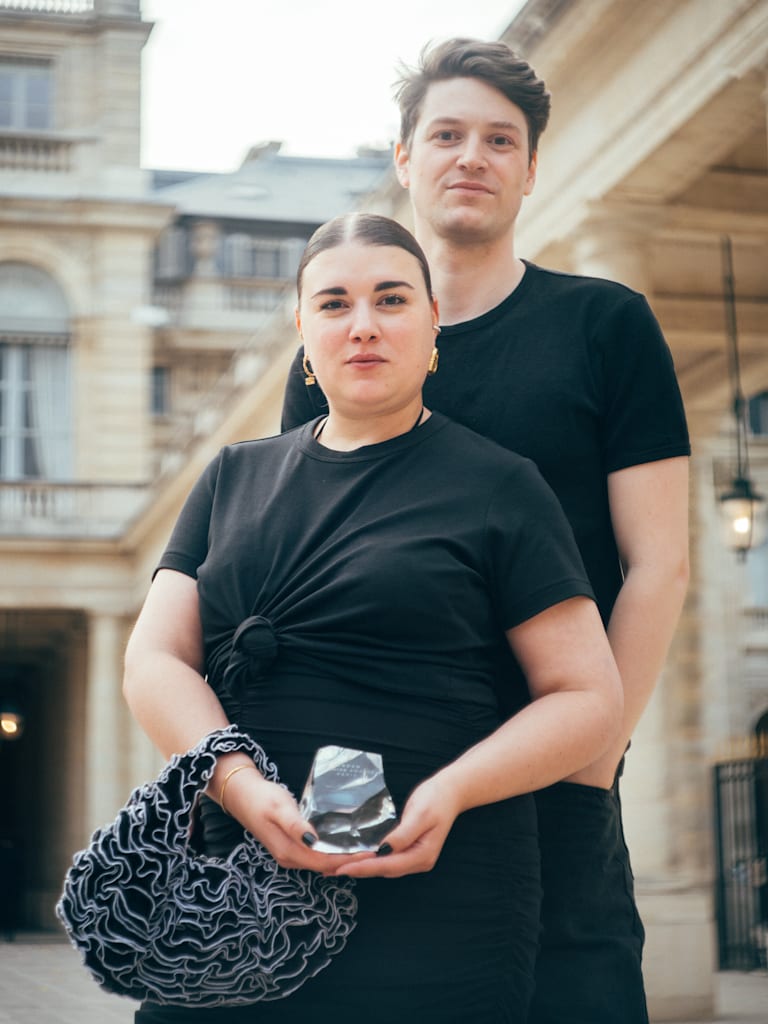 One of two Special Prize winners, Ester Manas is revolutionizing size inclusivity, creating bold collections for fierce and joyful women. Founded in 2019 by Ester Manas and Balthazar Delespierre, the brand aims to empower and celebrate women of all shapes and sizes with a range of sustainable and socially responsible pieces.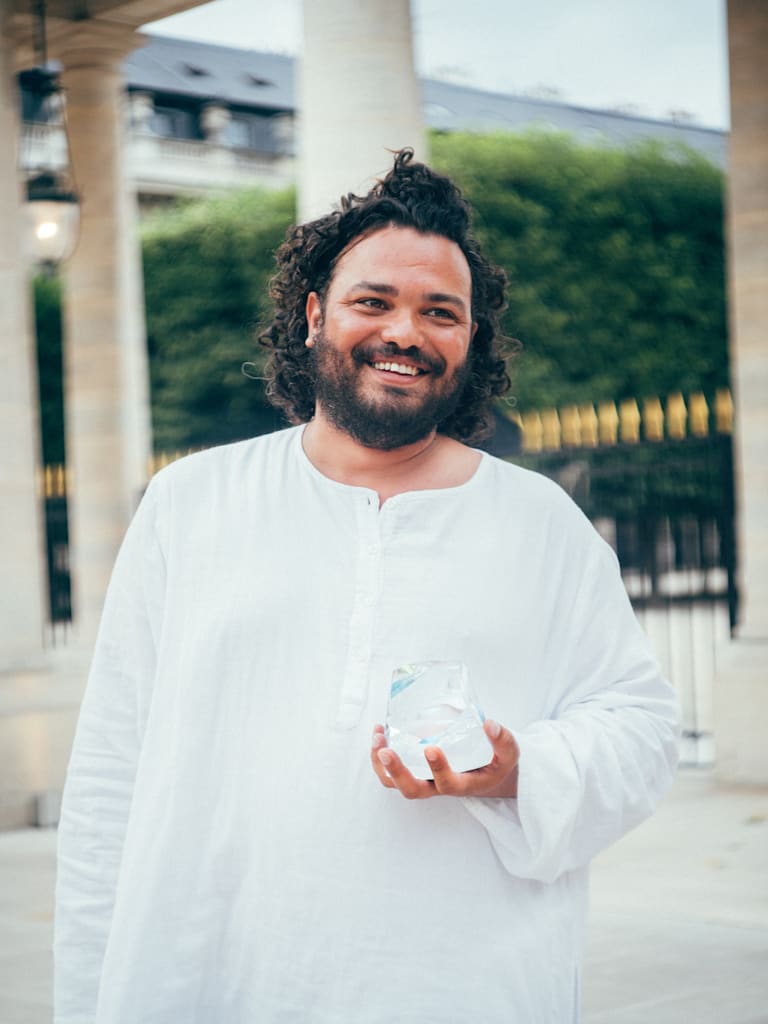 Sharing the Special Prize, Duran Lantink is a sustainable fashion label at the forefront of circular production. Each collection uses discarded pre-loved garments and deadstock to create innovative new creations, enhanced by sustainable materials. Each revolutionary design breathes new life into forgotten fabrics.
Tradition dictates that the winners of the ANDAM Grand Prize are invited to design the following year's trophies, in collaboration with Swarovski. For the prize's 34th year, a series of distinctive trophies was devised by menswear label BOTTER and crafted from reignited Swarovski crystals.
"We feel honoured and proud to have been selected by ANDAM and Swarovski to design this year's trophy. We wanted to transform Swarovski crystals into melting ice to create awareness for global warming. Sustainable design is the future, it is very important to move everything forward in the right direction, all together. Therefore we used reignited Swarovski crystals and gave them new life and meaning."  Lisi Herrebrugh & Rushemy Botter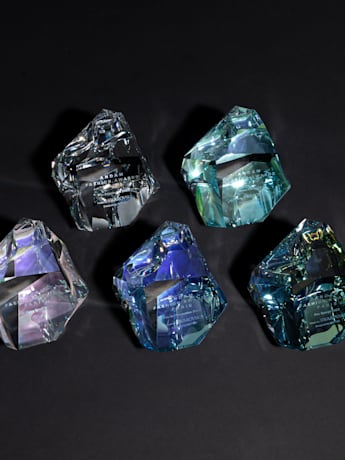 Enduring Luminosity
The ANDAM trophies are an ode to the importance of sustainability, formed into a shape that echoes the deterioration of the glacial ice caps, and serving as a timely reminder of what will befall the planet if fashion does not evolve and embrace recycled materials.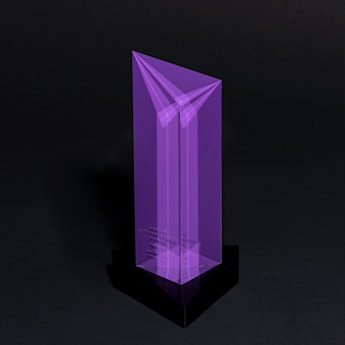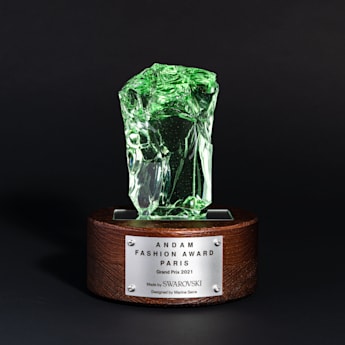 Swarovski ANDAM trophies created by past winners EGONLAB (2022) and Marie Serre (2021).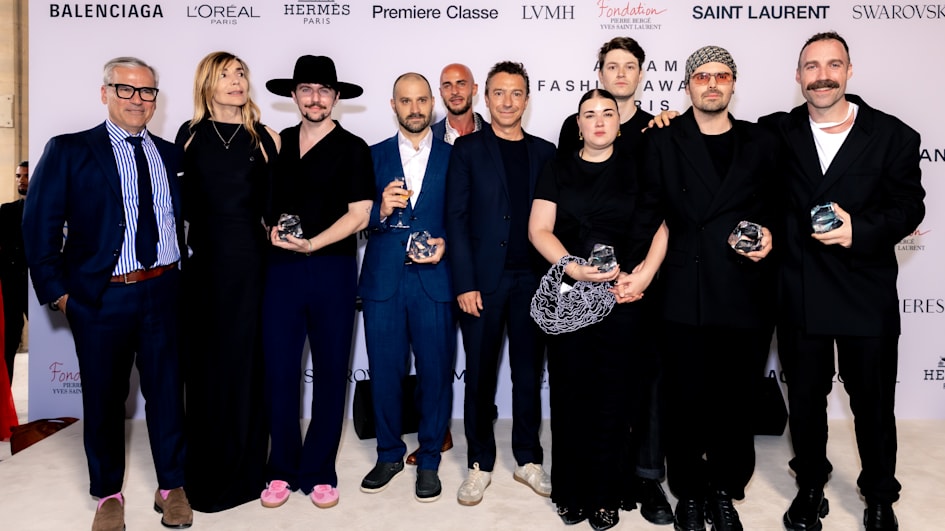 A Day to Remember
Pictured alongside Swarovski CEO, Alexis Nasard, Riccardo Bellini, and Nathalie Dufour, the six prize winning designers received their awards at a glittering ceremony held on the terraces of the Palais Royal in Paris.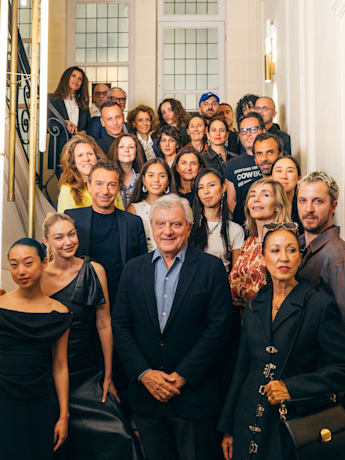 The Jury
The ANDAM prize is judged by a jury that unites leading luminaries from the worlds of fashion, jewellery, e-commerce, technology, and activism. This year, Swarovski CEO, Alexis Nasard, took his place on this prestigious panel as a permanent jury member. 
Illuminating the many facets of Swarovski from heritage to lifestyle and beyond.