Lighting Up Global Catwalks
Title:
Swarovski crystals have been integral to the international fashion industry since its inception. Stealing the spotlight at runways around the world, our mastery of light, cut, and color, as well as innovative creativity, helps to add an extra dimension to the collections of scores of emerging and established designers.
Works of Art
Each season, catwalks transform into exhibitions of artistry illuminated by crystals. An ode to creativity, couture collections exude joyful extravagance, with glimmering gowns radiating brilliance and color designed made to enchant audiences.
 
House signatures are intensified with the luster of precision cut stones, while high impact flatback crystals adorn show-stopping looks, whether woven into eye-catching accents or cascading from head-to-toe.
Swarovski Global Young Talent
Title:
The Swarovski Global Young Talent program has nurtured and celebrated the next generation of design talent since 1999. Continuing our close collaboration with the industry's leading lights, and helping to shape the future of fashion, this year Swarovski has empowered another cohort of exceptional talents to set the world's catwalks alight. From knitwear dipped in crystals, to exquisitely crafted Swarovski crystal mesh, and delicate tulle scattered with crystals to mimic the effect of falling snow, the ingenuity and creativity of the designers below is thrilling.
The Designers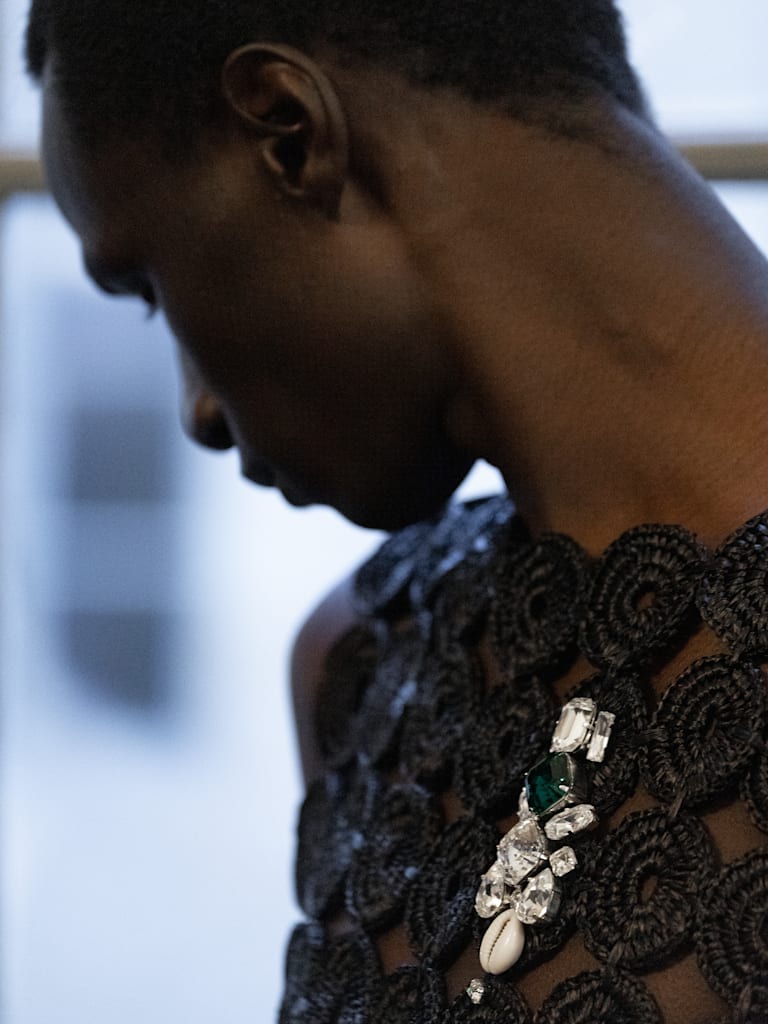 The eclectic references that informed Wales Bonner's AW23 Twilight Reverie collection combined to create something truly mesmerizing. Over 1000 crystals were featured throughout, seen on pleated men's skirts, knitwear, accessories by milliner Stephen Jones, and a shirt inspired by the Jamaican soccer team.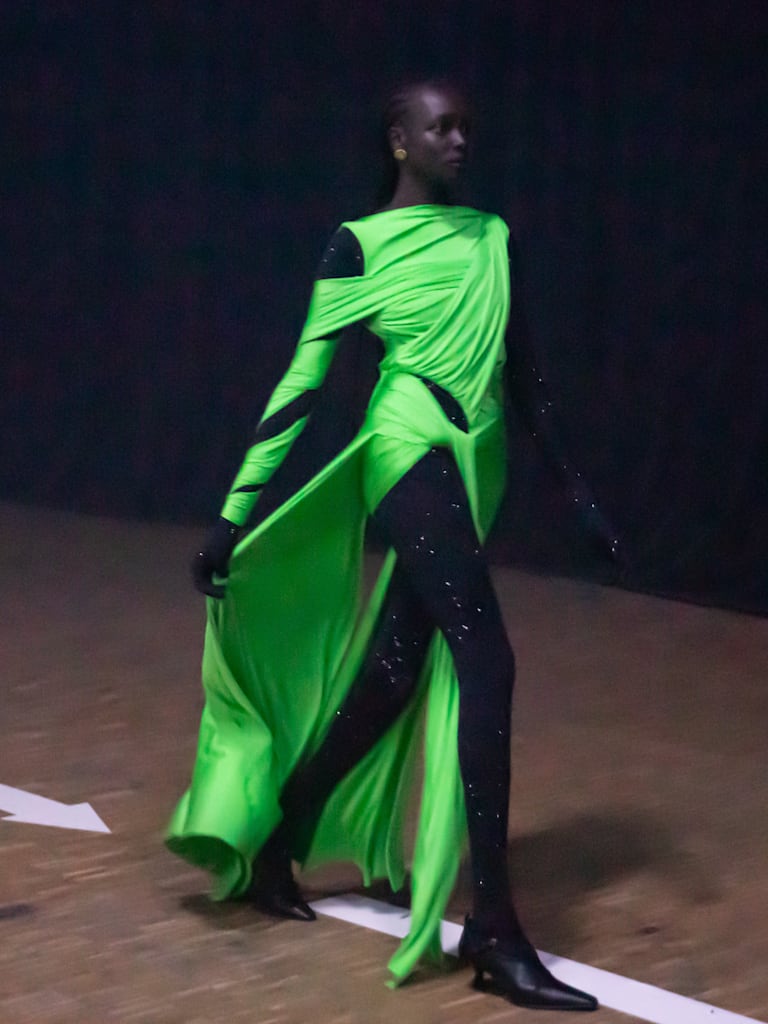 Fusing upcycling with street style sensibilities, Marine Serre makes her collections as sustainable as possible by reusing fabrics and materials to create unique patchwork ensembles. Her signature printed catsuits stole the spotlight on her AW23 catwalk, embellished with thousands of crystals shaped into crescent moons.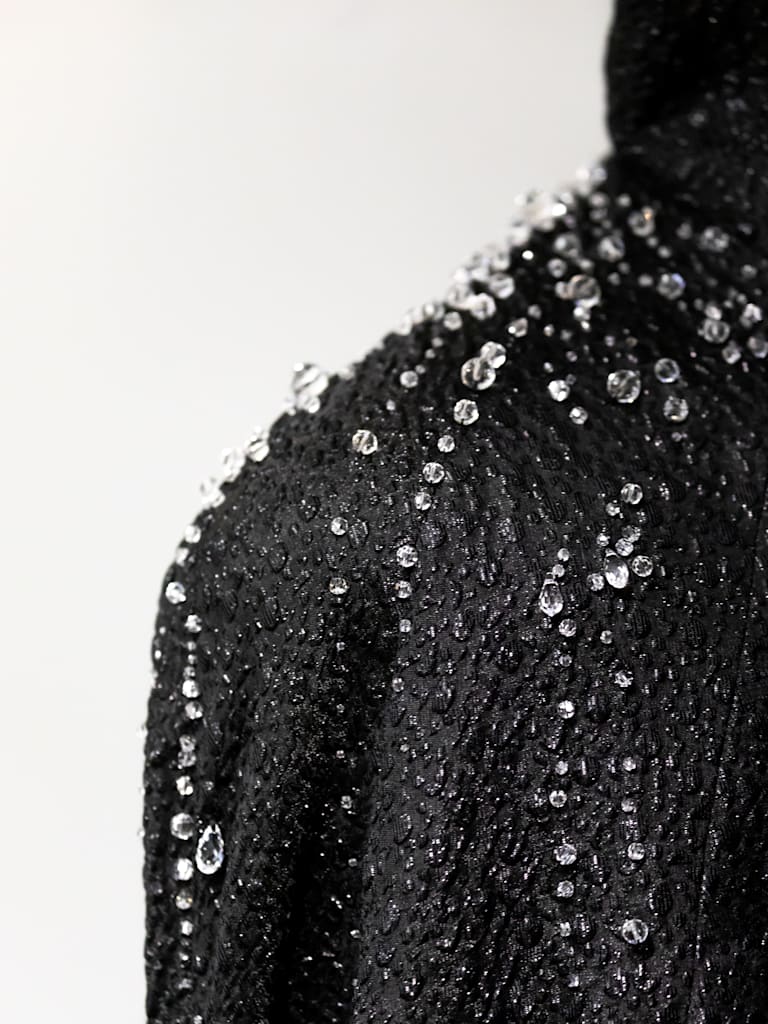 Making waves with his bold, youthful aesthetic, Hong Kong-born Robert Wun made his catwalk debut on fashion's most prestigious stage: Paris Couture Week. His SS23 Fear collection tackled any nerves head on, harnessing the power of over 6,000 Swarovski crystals in five looks that took over 300 hours of work to create.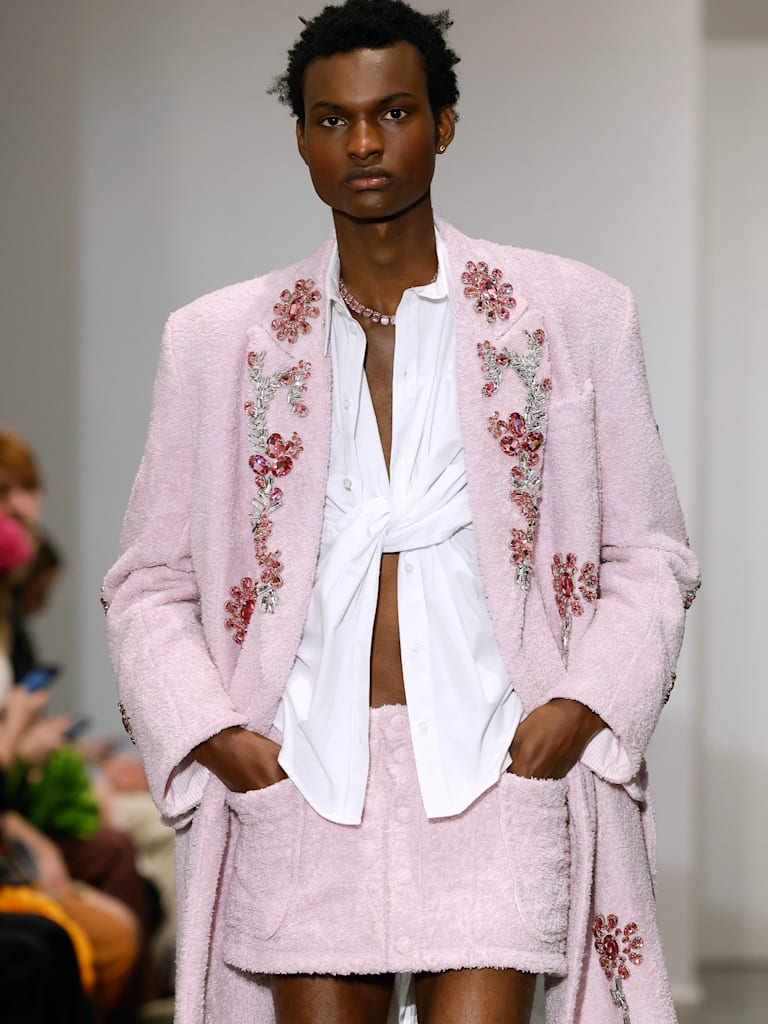 One to watch, Palomo Spain played with gender fluidity throughout his enchanting AW23 Closet collection. Styling every look with vibrant colored Swarovski jewelry, he also experimented with new embroidery techniques, using more than 4,000 stones to create stunning crystallized floral accents.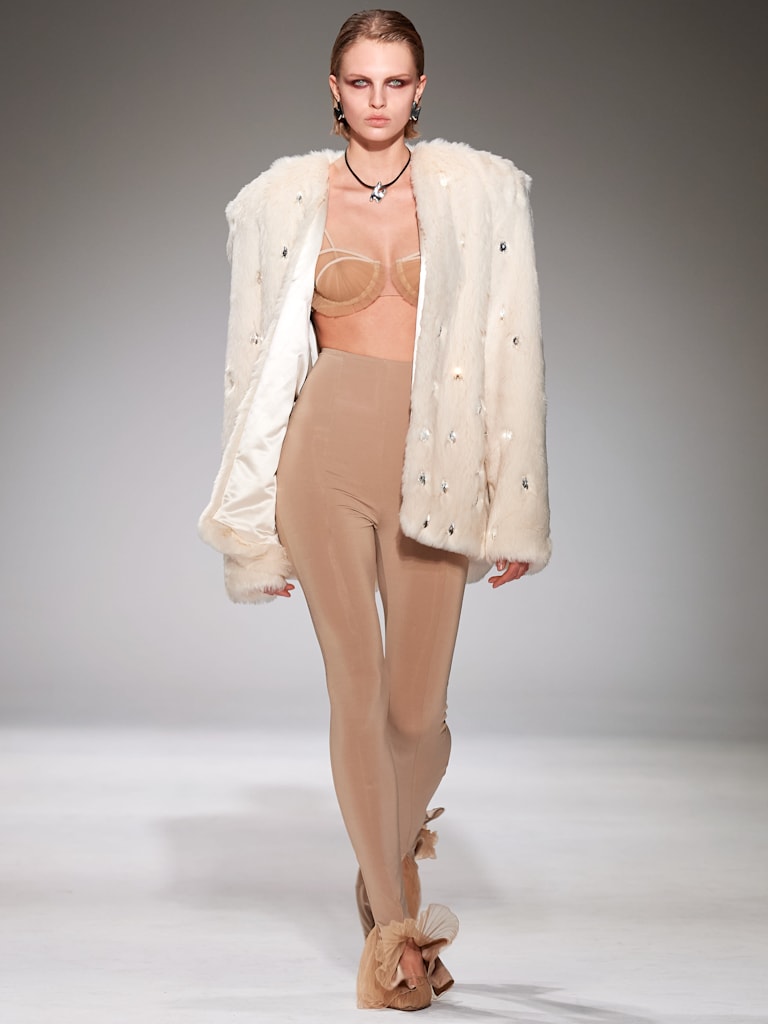 Albanian designer Nensi Dojaka blurs the lines between lingerie and eveningwear, using crystals to showcase feminine silhouettes and contour curves. Her AW23 collection highlights included a crystallized snowdrop dress, a galactic faux fur coat, and a dazzling nude illusion gown.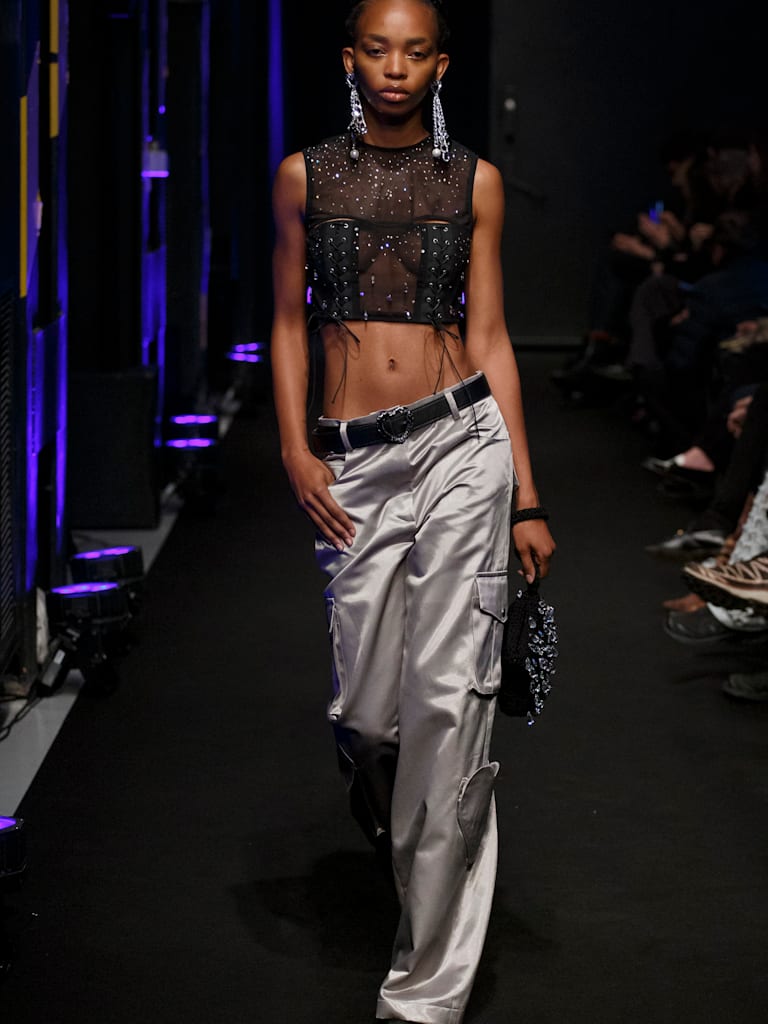 Taking inspiration from early '00s style, Marco Rambaldi's rebellious AW23 Supernova collection celebrates self-expression. Presenting myriad crystallized looks, his diverse pieces were united by shimmer, with crystals featuring in everything from beading details to cosmic motifs.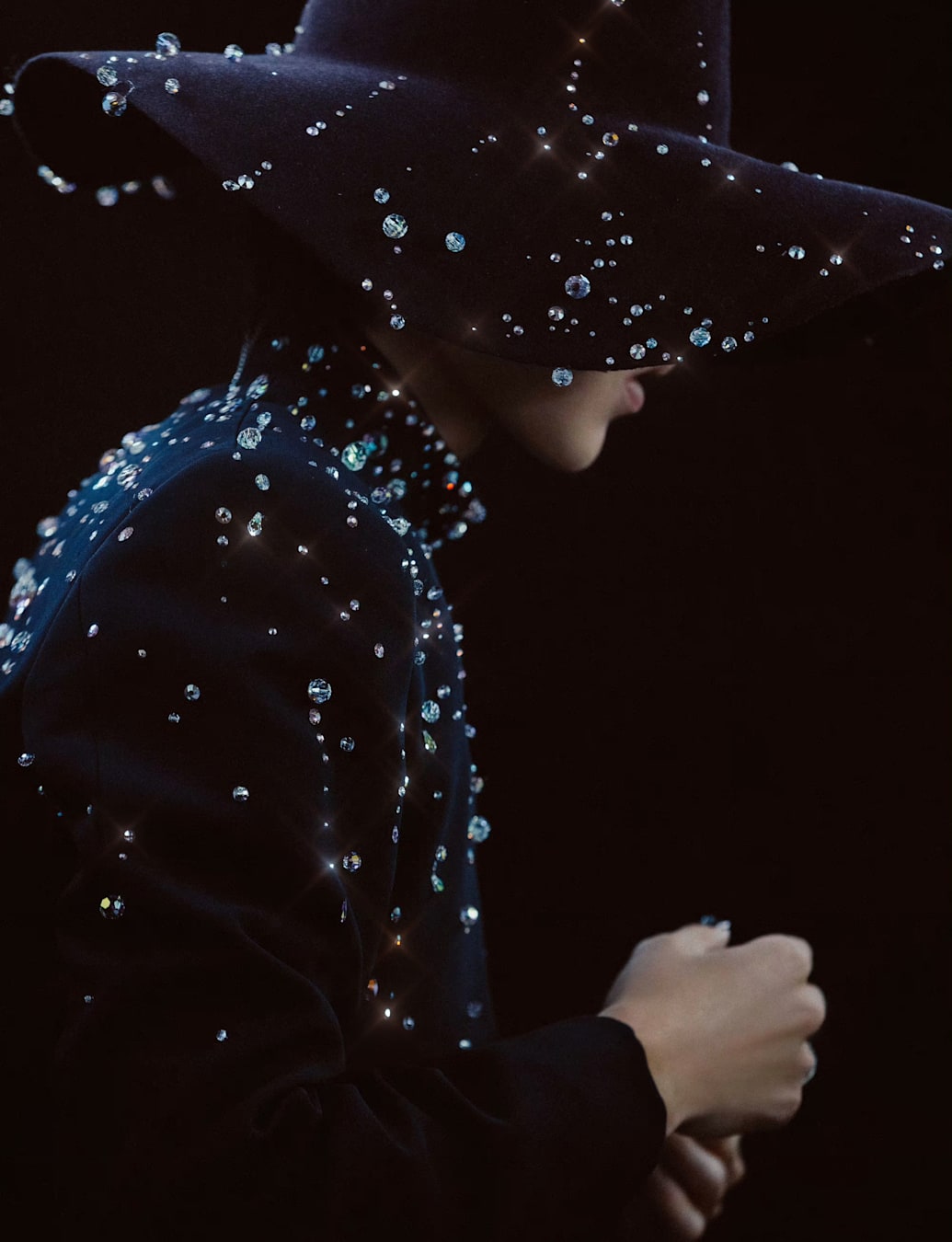 Robert Wun x KUN
Robert Wun crafted a majestic ensemble for Chinese singer KUN's world tour. Inspired by his crystallized Wun's Raincoat, he tailored stage outfits from midnight technical wool and adorned with thousands of Swarovski crystals. The custom embroidered suit and hat are made light up  international stages. Each masterfully cut stone falls on the suit like a droplet of rain, frozen in place to form a dazzling look that seamlessly fuses the worlds of fashion and performance.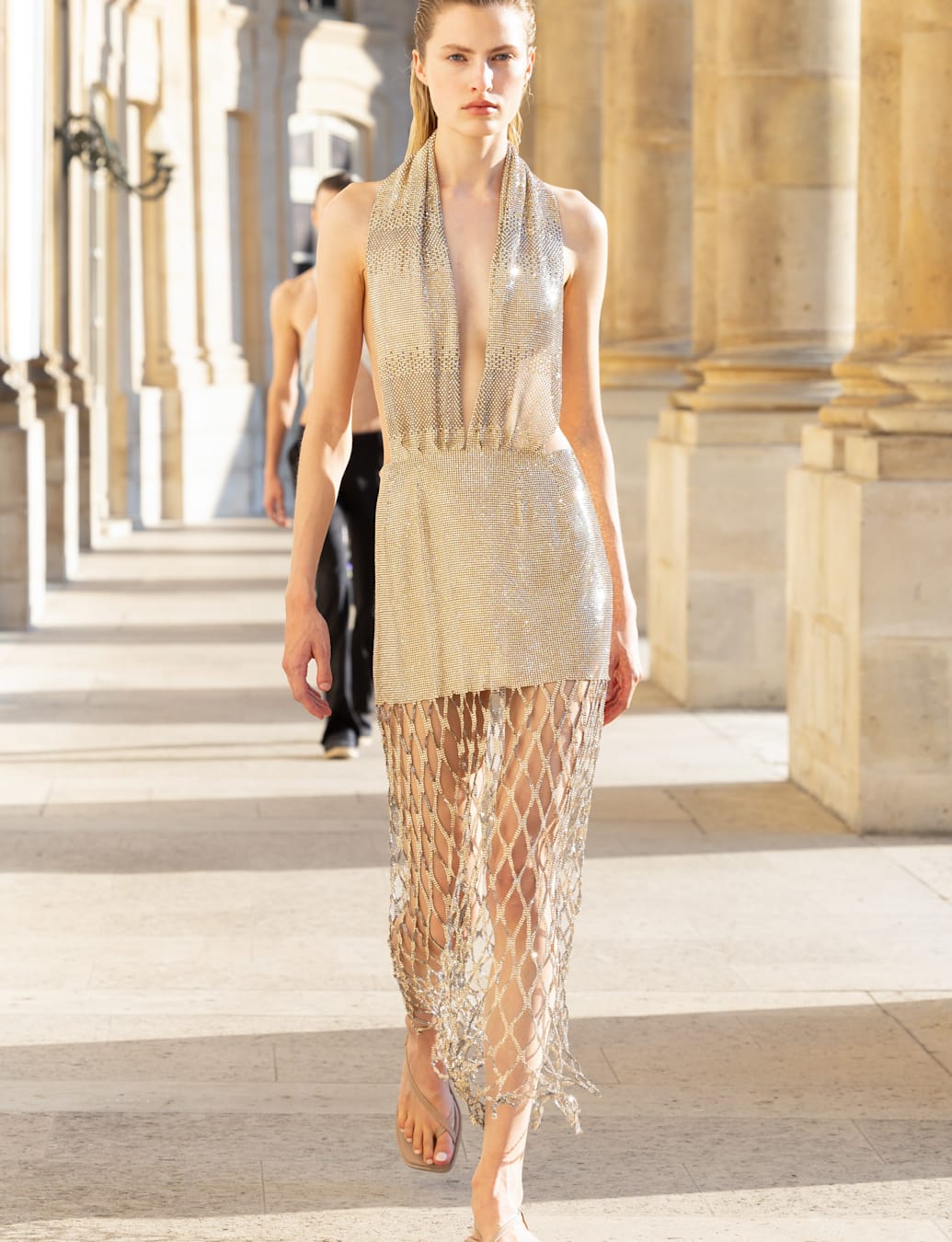 Ludovic de Saint Sernin
At Paris Menswear Week, Ludovic de Saint Sernin harnessed the power of crystals to create a vision of sensual elegance. Dedicated to desire, joy, and strength, his SS24 collection offered a nuanced and celebratory take on queer identity.
Crystals illuminated front-slashed, net-hemmed gowns and halter neck sash tops, while monogrammed totes were crafted from exquisite Swarovski Crystal Mesh. An irresistible interpretation of our signature savoir-faire.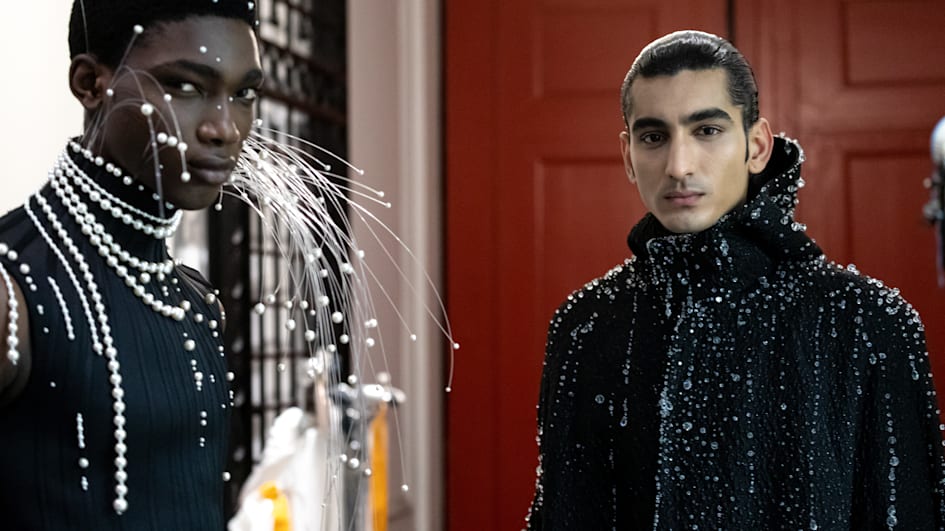 Creativity Unleashed
Robert Wun's Raincoat is an exercise in experimentation, testing the limits of possibility and harnessing our exceptional savoir-faire with crystallized embroidery designed to reflect the spontaneous and organic flow of rainfall.
Subvert Expectations
Cascades of crystallized beads frame the face before flowing down the body like pearlescent raindrops. The vivid midnight blue of each bead stands out against the blank canvas of a neutral raincoat, blurring the lines between dreams and reality.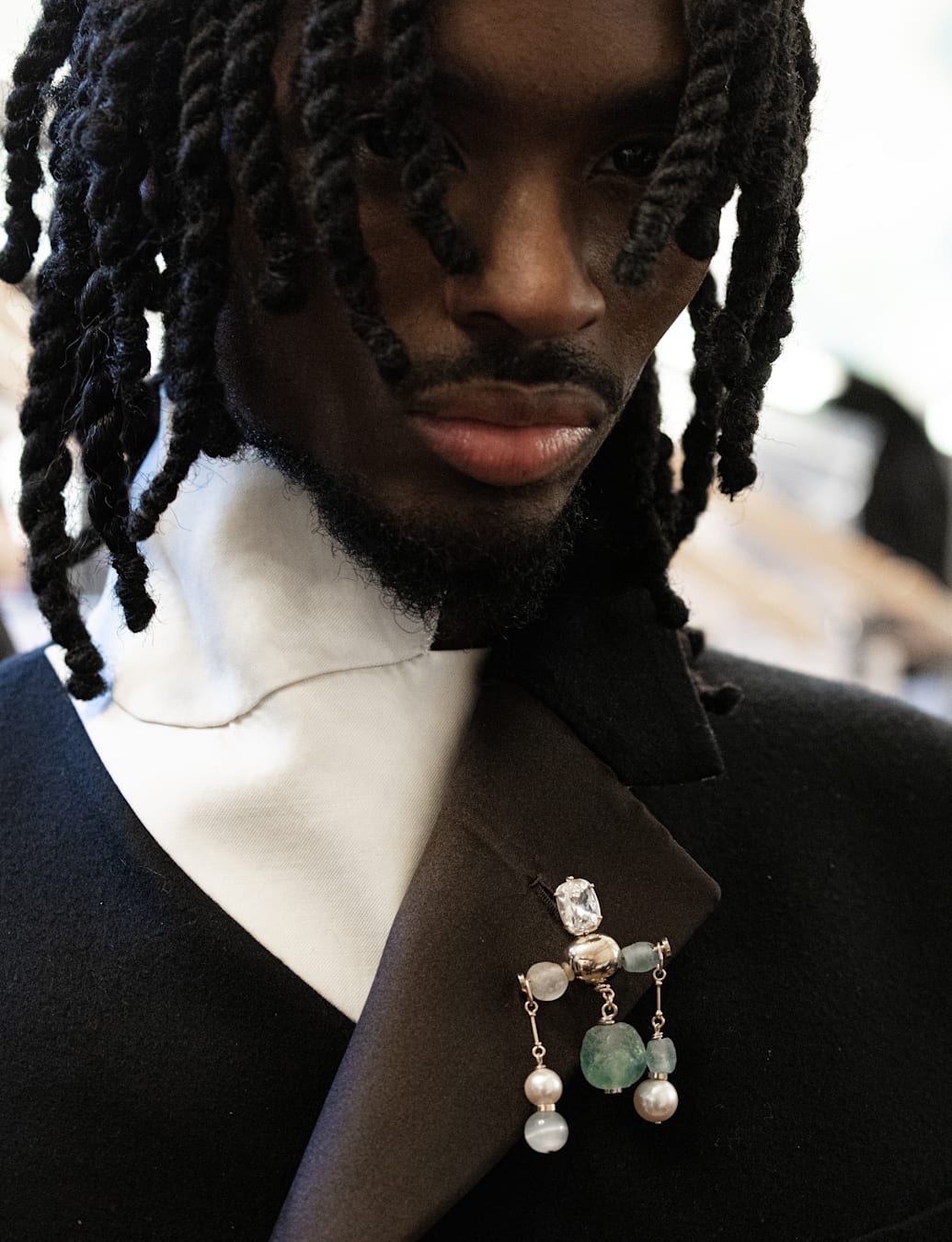 Divine Designs
Swarovski crystals light up runways in each of the major fashion cities. Designers delight in the versatility of our savoir-faire to bring their flights of fantasy to life, enhancing ready-to-wear looks with dazzling embellishments.
From New York to Paris, creatives rely on our custom cut stones to take their artistic visions from canvas to the catwalk, each finished piece emitting an unmistakable glow.
Design in collaboration with Swarovski
Welcome to the Swarovski Creators Lab. Here, we're dreaming up uniquely collectible, limited-release items, created in collaboration with esteemed brands worldwide. The invitation to explore is yours.
Illuminating the many facets of Swarovski from heritage to lifestyle and beyond.