How to wear multiple rings
Title:
It's time to get creative with the stacking rings trend. Whether pairing classic styles with a playful motif piece or balancing an oversized cocktail ring with a set of understated bands, our rings are made for experimentation. Learn how to style multiple rings with our rings style guide. The joy of self-expression is in your hands.
Rip up the rulebook. When it comes to creating looks with layered rings, let your personal style preferences define your selection. Curate different shapes, sizes, and designs to create a statement on a single finger, or build an eclectic collection across both hands. Trust your instincts and don't be afraid to stand out from the crowd. 
Own every room with a bold cocktail ring fuelling your confidence. Amp up the drama by choosing a prominent piece with exaggerated crystals and graphic lines. Make a splash with a standout style on every finger, or let your favorite steal the limelight by adding subtle band ring sets in complementary tones.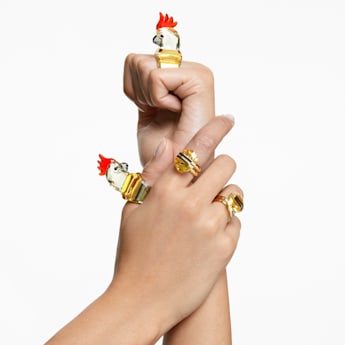 Designed for maximum impact.
From sentimental pieces to new trend designs, stacking rings allows you to showcase your personality. Push the boundaries by wearing extravagant cocktail rings on both hands or embrace timeless elegance with a classic halo and a clutch of band rings, all united by a cohesive color scheme and accent crystals.