Introducing Swarovski: 125 Years of Light
Subtitle:
To mark Swarovski's milestone anniversary, this expansive coffee-table book looks back on our unique heritage with never-before-seen images, bringing to life the magic, science and innovation that have made Swarovski a cultural powerhouse.
A True Collector's Item
Subtitle:
Just like the finest piece of Swarovski jewellery, this beautifully-illustrated volume is designed to stand the test of time and comes with three collectable covers by renowned light artist Chris Levine in blue, green and pink. With an introduction by legendary fashion commentator Suzy Menkes and foreword by jewellery historian Vivienne Becker, the book captures the wonder and essence that lies at the heart of our work.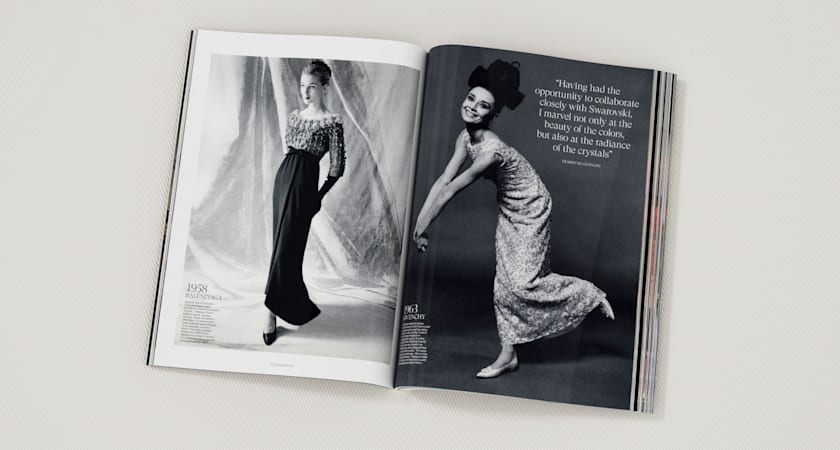 Through the Decades
Subtitle:
Striking archive and editorial photographs chart extraordinary moments in Swarovski's history, from embellishing the work of the first haute couturiers of the 20th century to supporting contemporary pioneering fashion designers, and illuminating the worlds of stage and screen since 1895. Highlights include creations from fashion houses such as Dior, Schiaparelli, Balenciaga, Versace, Chanel, Gucci and Prada; iconic movie moments such as Audrey Hepburn in Breakfast at Tiffany's, Kate Winslet in Titanic, Lily James in Cinderella and Zendaya in The Greatest Showman; dazzling performances from Beyoncé, Lady Gaga, Katy Perry, Jennifer Lopez and Spice Girls; and showstopping architectural and lighting designs by the likes of John Pawson, Zaha Hadid, Ron Arad and Tom Dixon. 

The book also includes exclusive interviews with Swarovski collaborators such as Donatella Versace, Academy-award winning costume designer Sandy Powell and internationally acclaimed architect Daniel Libeskind.
"As the company celebrates a journey of 125 years, its fresh vision can be expressed in two words: inventive purity" – Suzy Menkes, Fashion Journalist, Writer and Consultant
Title:
In Partnership with Condé Nast
Subtitle:
Created in collaboration with the iconic publishing house, Condé Nast, the book unveils never-before-seen imagery with chapters that span fashion, jewelry, entertainment and design. With 233 pages to explore, it pays tribute to some of the world's finest creative talents and celebrates over a century and quarter of visionary brilliance.