Break the rules, find your style
Title:
then swich it up
Subtitle:
Ready to own your style? Mix things up? Have some fun and let your jewelry elevate your look? We dive into three jewelry rules – and how our exclusive SCS Elegance of Africa
Pendant Set
can help you break them to your best advantage…
Rule 1
: Like with like
Classic shapes should be combined with classic outfits. A traditional pendant is best worn over traditional cuts, in a similar colour palette. Those are the rules. 
We disagree. Wholeheartedly. While a classic shape, such as the emerald step cut of the SCS Elegance of Africa Pendant, does look stunning with a little black dress, it's a lot more fun to be daring. Especially considering that the exclusive SCS Elegance of Africa
Pendant
is reversible. One side is an opaque White Opal crystal, which reflects an array of blues, yellows, pinks and whites when light hits its surface, while the other is a Light Topaz crystal, with warm, amber tones. In other words, two different ways to experiment with colour. Take advantage and look to outfits with a modern edge in unconventional patterns. Athleisure? Sure, why not? Rules are there to be broken; the word of the day is play. Hint: Juxtapose the pendant's classic shape with asymmetric pieces, masculine or athletic cuts, bold patterns and strong contrasts. 
Rule 2:
Keep it simple
Don't overdo things. A pendant is beautiful as a regal stand-alone piece. Let it sit on your bare decoltage – demure, subtle and elegant. 
Absolutely not! Opting for a reserved look is great, but we say layer it up. The SCS Elegance of Africa Pendant Set comes with two pieces – a crystal pendant and a magnifying glass (more on the origin story of this later). It was designed specifically to create a layered look, which means you can easily add interest to even the most casual outfit. Want to take it up a notch? When it comes to jewlry, we say more is more. Play with shape, colour and length to turn your look into a showpiece. Hint: Take a gander at the
Millena Family
, keep a bare decoltage or pick a single block colour, and let your jewelry take the spotlight.
Rule 3:
Don't play with your jewelry 
Sparkly jewelry belongs to the night. Put it on. Leave it alone. Let it twinkle but don't touch it. Let people quietly admire it. 
Nonsense! Once in a while it's fun to be playful and interactive. Which is why the exclusive SCS Elegance of Africa Pendant Set comes with a tiny-but-mighty, fully functioning magnifying glass. The special piece was created to honor the 35th anniversary of the SCS. The pendant has the anniversary date (1987-2022) discreely engraved on it, invisible to the naked eye. A secret for your eyes only. You can use the magnifying glass to find it or just to admire the mastery of the cut and refraction of the colours, up close. Hint: Wear it day or night. Style doesn't have a curfew.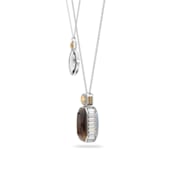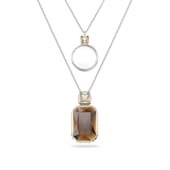 The magnifying glass has quite the history. Its current form can be traced back to the mid-1200s, but even far further back ancient Egyptians used shards of crystal and obsidian to examine objects. 

When it comes to the magnifying glass which is part of the exclusive SCS Elegance of Africa Pendant Set, we can quite confidently say that it is the first of its kind in history – not only is it a gorgeous jewelry piece, but it can be used to unveil a hidden secret: the SCS anniversary date discreetly engraved on the pendant. 

As such, it's not only a fitting way to commemorate the 35th anniversary of the Swarovski Crystal Society and all of our wonderful members, but also a beautiful, one-of-a-kind gift for loved ones. The soft colour palate and reversible nature of the SCS Elegance of Africa Pendant Set makes it flexible enough to work with different looks (and different personalities), while the design makes it eye-catching enough to grab attention – and compliments. Timeless yet current; one for the ages.