Channelling the light, energy, and brilliance of New York City, our largest ever flagship hosts a glittering party to mark its arrival on Fifth Avenue, and to launch the new SWAROVSKI X SKIMS Collection.​
Couture Crystals
Kim Kardashian makes a dazzling entrance at the SWAROVSKI X SKIMS party wearing a custom crystal couture piece designed by Swarovski Global Creative Director Giovanna Engelbert, and accessorized with a New York taxi embellished with Swarovski Crystals. 
Hailing a ride to a world of light-filled luxury.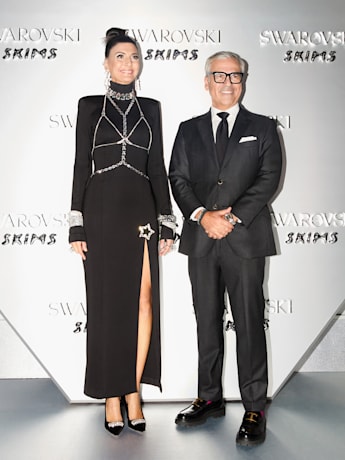 Party Time
Swarovski CEO Alexis Nasard and Swarovski Global Creative Director Giovanna Engelbert host a glittering party to launch the SWAROVSKI X SKIMS collaboration.
A Galaxy of Stars
American model Jasmine Tookes shines in a crisp white blazer styled with layers of light-filled Swarovski Hyperbola and Dextera jewellery.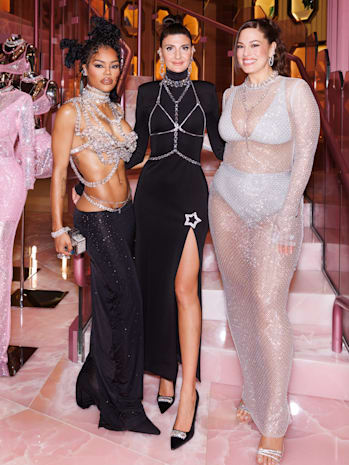 Teyana Taylor, Giovanna Engelbert & Ashley Graham
Title:
Singer and actress Teyana Taylor, Swarovski Global Creative Director Giovanna Engelbert and model Ashley Graham wear SWAROVSKI X SKIMS Jelly Sheer and Stretch Net pieces accessorized with body jewellery.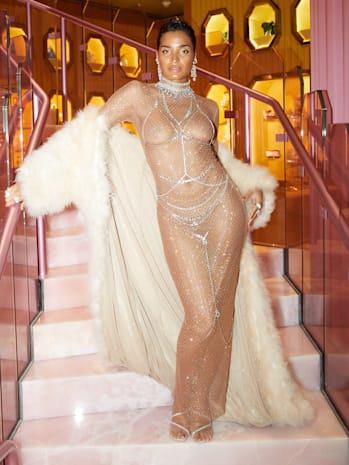 Actress Indya Moore dazzles in a SKIMS X SWAROVSKI Stretch Net Dress with layers of SKIMS X SWAROVSKI body jewellery and Swarovski rings, earrings and choker.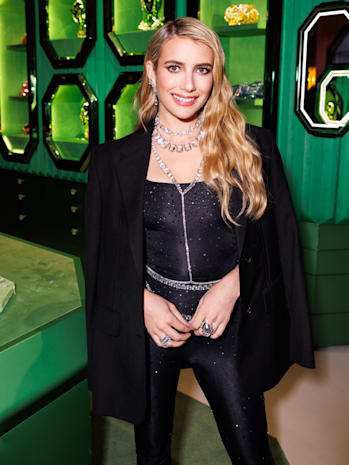 Actress Emma Roberts wears a SWAROVSKI X SKIMS Jelly Sheer Catsuit with Millenia necklaces and SWAROVSKI X SKIMS body jewellery.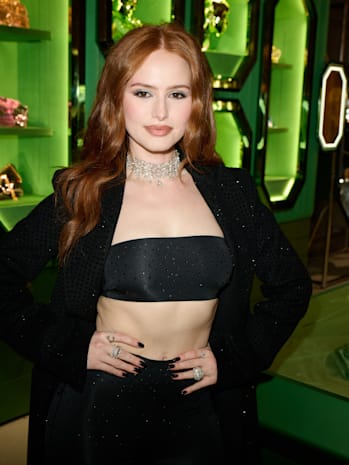 Actress Madelaine Petsch shines in SWAROVSKI X SKIMS Onyx Jelly Sheer Bandeau and Jelly Sheer High-Waisted Legging accessorized with Mesmera choker and cocktail rings.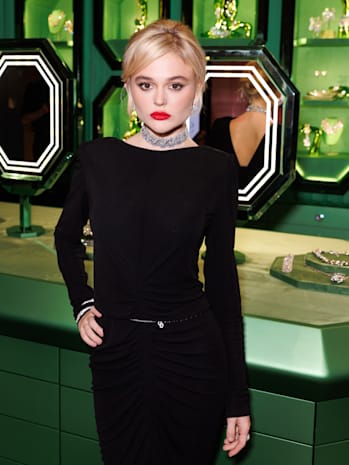 Actress Emily Alyn Lind delivers high class elegance in the Hyperbola choker, Luna earrings and SWAROVSKI X SKIMS cupchain belt.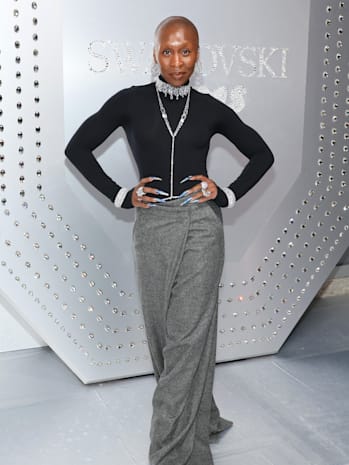 Actress and singer Cynthia Erivo offers vivacious glamour by pairing the SWAROVSKI X SKIMS V-neck body jewellery and a mixture of high-impact Hyperbola pieces with the hypnotic Mesmera choker.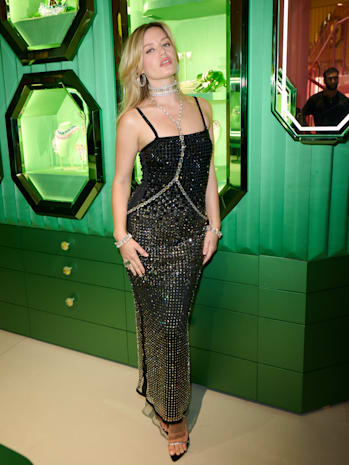 British-American fashion model and designer Georgia May Jagger stuns in a sparkling head-to-toe look, featuring our SWAROVSKI X SKIMS Millenia body jewellery alongside exquisite picks from our impactful Millenia and Hyperbola jewellery collections.
Inside Swarovski on Fifth
Title:
Unveiling the flagship store for the very first time, our beacon of joyful extravagance shines brightly on New York's Fifth Avenue. 
Signature colours, rich textures and the SWAROVSKI X SKIMs Collection illuminate
Swarovski on Fifth.
Shine Like an Icon
Introducing the shape of the future. The creativity of Swarovski, and innovation of SKIMS, collide in each crystal curve. Amplify your confidence with this limited edition of exquisite body wear and jewellery illuminated with the brilliance of Swarovski crystals empowering every body to shine like an icon.
Swarovski on Fifth
Since 1895, Swarovski has created beautiful jewellery that lights up the world. Now, a new chapter begins with the opening of Swarovski's flagship store on New York City's famed Fifth Avenue.