Swarovski's 125th Anniversary Competition 2020 – Results
Winners Announcement
Enjoy the winners' entries and discover what Swarovski means to these participants

Thank you to all members and customers, who participated in the Crystal Lovers Competition 2020, hosted by SCS, on the occasion of Swarovski's 125th Anniversary. With over 3000 entries it was an enjoyable challenge for the jury to decide on the final 25 well-deserving winners. View the winning entries of the competition here.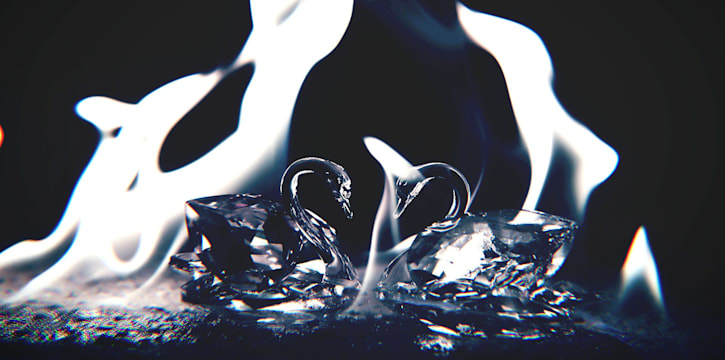 Rank 1: Summer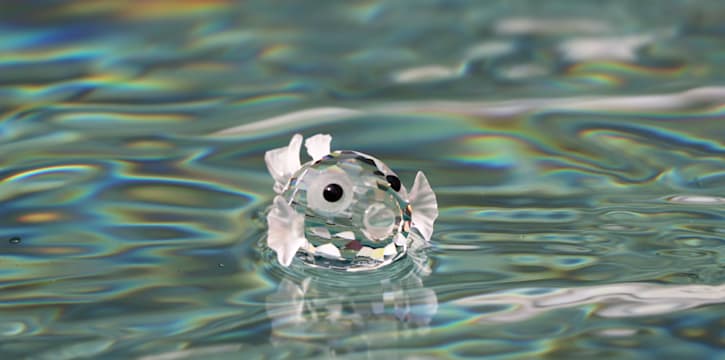 Rank 2: Janelle
Rank 1: Summer, United States
I had a photography photoshoot with my Crystal Swans and I really had a breakthrough with the fire idea, and it was like I saw such beauty the way the light went through the crystal. My first Swarovski was a necklace my uncle gave me, and my Grandmother gave me all her Swarovski Crystal Living objects and I fell in love with them and how beautiful they are. I hope i am considered for this opportunity.
​​​​​​​
Rank 2: Janelle, United States
The mini blowfish was my first piece of Swarovski given to me in 1994 for my high school graduation by a mentor of mine. She was a collector and had wanted to give me something that meant a lot to her. I fell in love with the little guy and wanted to show him off in his "natural" habitat. I have been collecting ever since to the best of my ability but getting married and having 3 daughters has not always allowed me to get my yearly pieces or ones I would have loved to purchase. I am happy to say that each of my girls have their own collections started already. We always get excited when the new magazine comes out so we can see what's new! I'm also thrilled to say that my husband and I took our first trip to Europe for our 20th anniversary in 2019 and visiting Kristallwelten was a "must do" on our trip. It was unfortunately rainy that day but I still loved being there
​​​​​​​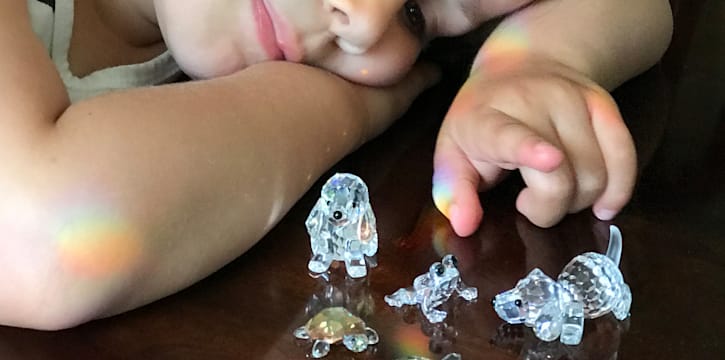 Rank 3: Julie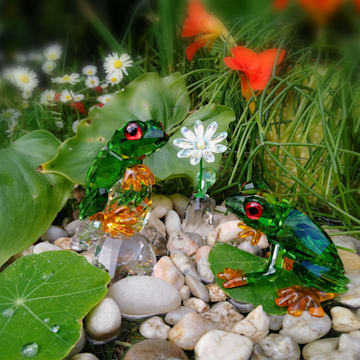 Rank 4: Sophie, France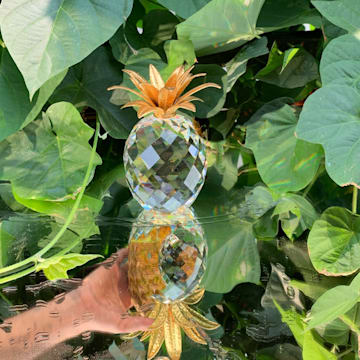 Rank 5: Anthony, United States
Rank 3: Julie, United States
Our story is about crystals, sunny days and rainbows. My granddaughter Monroe and I love all three. Monroe loves to use her imagination as she "gently" plays with the smallest of Swarovski crystals. Turtles, curious puppies, a frog, Christmas kitten, camel, penguin, swan, bears and even the bride and groom bears. The best of fun appears when we get a sunny day. At just the right time and at just the right angle, a ray of sun will shine through our Swarovski crystals. What happens then is a celebration of rainbows everywhere. Their brilliant colors speckle the walls, floor and ceiling of our dining room. There must be hundreds. Monroe and I will march around the table singing the "Rainbow Day" song. \(We made it up and it's actually pretty catchy\). The rainbows are so clear and brilliant that their colors bring us both such joy. Monroe will jump in front of some and give herself rainbow tattoos. Or she'll try to make them disappear, only to find rainbows on the top of her hands. The hanging crystal ornaments I will touch slightly. Their reflections will bounce around like fire flies. The happiness Swarovski Crystals has brought to my home is unmeasurable. Not only their beauty but moments with my Granddaughter I so cherish. Hopefully, she will carry these memories with her as she grows up.
 
Rank 4: Sophie, France
SWAROVSKI a su cristalliser mon souvenir d enfance des petites reinettes que je passais des heures à observer dans le potager fleurie de ma grand mère

Swarovski has managed to crystallize my childhood memories of the little frogs that I spent hours watching in my grandmother's flower-filled vegetable garden
Rank 5: Anthony, United States
My fondest memories as a child were visiting my grandmother's house. Atop her mantle sat a Swarovski Crystal Living pineapple, to which I attribute my lifelong fascination with crystals. When my grandmother got ill just three years ago she promised me that the pineapple now belonged to me before passing away. My crystal pineapple is undoubtedly my favorite material item. Looking into its rainbows reflecting in my home, I feel forever connected to my grandparents. I adorn myself with Swarovski crystal jewelry, always strengthening my ties to the emblem of my being melodrama intended. If I chose to attribute my identity to an aspect of the material world, I would select Swarovski, and the love gifted to me by my grandmother. In the history of many civilizations, pineapples have been used to represent wealth, class, nobility. In the south, however, pineapples have come to symbolize something else; welcome, hospitality, warmth. My southern grandmother was the keystone of my family, much as pineapples are keystones in grandiose lux design. Calling everyone in the family for supper, sweeter than the taste of pineapple in the summer.

​​​​​​​See all winners
---